We Remember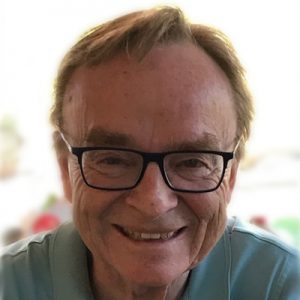 BUVYER, Bob
—
Bob Buvyer passed away suddenly at his home in Kelowna, BC at the age of 73. He is survived by his loving wife of 49 years, Lenore; son Craig (Sophia) Buvyer and their children Adriana and Brendan; daughter Carly Buvyer; his two sisters Joanne and Julie; and his brother Harold.
Born in Vancouver, BC, Bob and his family moved to Quesnel, BC in 1953 where he lived until he graduated in 1964. He enjoyed the freedom of living in a smaller community and was always involved in the town activities as were his outgoing parents. He always enjoyed people, especially his family, and was an excellent listener which we can all attest to. Bob loved his early job delivering papers, getting to know his customers and took this all very seriously. As a teen he was involved with a motorcycle club and had a serious interest in bikes, which he eventually gave up, but he never gave up his other passion, playing Monopoly! And of course, he always had to, and usually did, win. After graduation Bob went back to Vancouver, BC. Never one to sit idle, he had a variety of employment but always came back to real estate and became a Mortgage manager for Royal Trust. Here he met Lenore, whom he married (and was just about to celebrate their 50th Anniversary). They moved to Kelowna, BC, had a son Craig, and daughter Carly, and very much enjoyed his time there. When an opportunity to work more independently in Vancouver arose, he returned, living in Richmond. Bob became a mortgage broker and started his own business, Aristar Financial. He saw great opportunity for real estate development in Kelowna so, with Lenore, they moved back in 2000 where they reside today. While still in financing, he also partnered to develop numerous projects. His son Craig has since joined him in business and will be operating his company.
Bob liked to travel, and his wife was always handing him a new brochure, but his most favorite place of all was Palm Springs, which they frequented often. He enjoyed his spiced rum, movies, and watching sports, especially baseball.
He was a great dad and loved to spend time with his children. His newest focus was his grandchildren and they always brightened his day. They too loved his gentle, caring nature. We will all miss him dearly.
A Celebration of Bob's Life will be held on Monday, July 29, 2019 at 2:00 pm at Springfield Funeral Home, 2020 Springfield Road, Kelowna, BC. In lieu of flowers, donations may be made to the Heart and Stroke Foundation www.heartandstroke.ca. If you wish to send a condolence, post photos or share a memory, please scroll down the page to the area called "Condolences".
Service
Monday, July 29, 2019 at 2:00 pm
Location
Springfield Funeral Home
Service Information
Service Details
The service for BUVYER, Bob is scheduled for Monday, July 29, 2019 at 2:00 pm. Below you will find the map for the service location and the contact information should you have any questions.