We Remember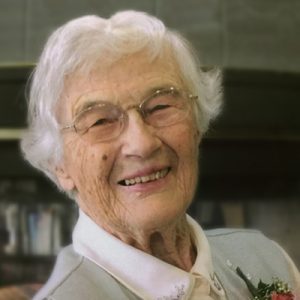 CHURCHILL, Joan
September 17, 1921 — July 15, 2019
Joan passed away peacefully on July 15, 2019 in Kelowna, BC. She leaves behind her loving family; daughter Ann (Ron) Thompson of Oyama, BC and her four grandsons; Steven (Lori) Thompson and their children Andrea and Kristy; David (Jessica) Thompson and their children Dean and Ben; Max and his son Kole; and Marc; her sister, Elspeth Lindsey; and her brother-in-law Rodger Dickson. She was predeceased by her son, John Everett Churchill; her brothers John Burris and Stewart (Jean) Burris; her sister Helen Dickson; and brother-in-law Graham Lindsay; and nephew John Burris.
The world became brighter when Joan entered the world on September 17, 1921. She was the oldest daughter born to Dr. HL and Ruby Burris in Kamloops, BC- a city of 5,000 people at the time.
She followed her older brother, Stewart, by 14 months and after her came her sister Helen, brother John, and baby sister, Elspeth.
Joan's school years were mainly as a day student at St. Anne's Academy – a convent school for girls. She made many lifelong friends, and also her incredible musical gift began to develop. As well as piano, Joan played cello in the Kamloops Youth Orchestra.
She went on to study music at the London Royal School of Music and graduated from Western University in the 40's.
She married Arnold Churchill on August 17, 1947 at the lovely Anglican church in Sorrento BC. Joan and Arnold lived in Oyama, BC until 1949 when they moved North to Peace River, AB to begin their Grand Adventure. For the next 8 years they followed work in the oil patch – their children Ann and John were born in Regina, SK. After a short year back in Kamloops they then they moved back to their beloved Peace River country. Settling down in Charlie Lake, BC in 1959, Joan became involved in the communities, playing and singing for the community choirs, playing the organ at church, Oil Wives Club and to the delight of the mothers of Charlie Lake, formed a Glee club for the children in the area. Their home was filled with over 30 busy children every Saturday morning, where she shaped and formed these diverse kids into a functioning choir.
Very happy years followed, and they bought land at mile 64 of the Alaska highway in 1963 and moved from Charlie Lake to the farm in 1965 – true pioneering – no power, phone, running water and the nearest neighbors were over half a mile away.
In 1972- though keeping the farm for Arnold's horses, sled dogs etc. they moved into Fort St. John, BC, and Joan expanded her teaching career. Some years teaching private lessons to as many as 95 students in a season. A lot of her students have maintained contact with her over the years.
Sadly in 1974 they lost their only son, John. The support and love of family and friends, as well as their great faith, sustained them through this difficult time.
More happy times to come though- their daughter Ann married Ron Thompson in 1975 and over the course of the years their precious grandsons were born.
Joan enjoyed a trip of a lifetime when she went with friends to Israel and toured the Holy Land. When grandson Steven was 3 and grandson David a baby, Arnold and Joan moved back to Oyama and enjoyed connecting with old friends, making new ones and seeing more of their families. Joan however did spend a lot of time back in Fort St. John after the birth of her twin grandsons Max and Marc, the four boys brought much joy to her life.
In 1991 they decided the North was where they wanted to be and moved back to the farm at "64" where they continued to live for many more years. Arnold's health started to decline in 1998 and Joan looked after him at home on their beloved farm. Joan continued living there after Arnold's death in 2003, for 4 more years until her Parkinson's came to be an issue.
She moved to a lovely apartment at Canterbury Court in Vernon, BC and enjoyed new friends as well as visits from old and faithful friends over the course of the seven years she was there.
In 2014 Joan moved to the Lake View Lodge facility in Westbank, BC where she received the love and care from excellent staff.
2017 saw her moved to the Glenmore Lodge, closer to Ann and Ron. Her remaining years spent there were filled with the love and devotion of incredible staff, fellow residents and lovely surroundings, she continued receiving visits from devoted friends until the end.
This gentle, loving, beautiful soul left us as peacefully and quietly as she lived, with many memories to warm and fill our hearts.
A celebration of Joan's life will be held on Thurs, July 25, 2019, at 1:00 pm at Springfield Funeral Home, 2020 Springfield Road, Kelowna, BC. If you wish to send a condolence, post photos or share a memory, please scroll down the page to the area called "Condolences".
THIS SERVICE WILL BE LIVE STREAMED THURSDAY JULY 25 AR 1:00PM

Service
Thursday, July 25, 2019, at 1:00 pm
Location
Springfield Funeral Home