We Remember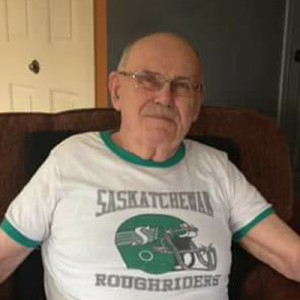 GERHARDT, Wilfred "Willie" Paul
—
Wilfred (Willie) Paul Gerhardt, age 93, passed away suddenly (we were sure—and we hoped—that he would live forever) on Oct. 06, 2017 at his home in Winfield, BC.  He is survived by his loving wife, Helen (nee Roesslein).  They were married in Reno, Nevada and celebrated their 66th anniversary this year.  He is also survived by his oldest son, Wilfred (Jeannette) and their children Michelle (Greg) Neufeld, Erin (Dave) Jolicoeur and Lisa (Adam) Smith, all of Steinbach, Manitoba and 9 great-grandchildren; daughter Linda Giroux and her children Christopher Giroux, Danielle (Adam) Allingham and Darren Giroux, all of Lake Country, BC and 2 great-grandchildren; and youngest son Michael of Terrace, BC.  Willie is also survived by his sisters Elfrieda Mantay and Violet Roesslein both of Weyburn, Sask., and Leona Sinclair of St. Albert, Alberta and brothers Harold (Lila) of Nanaimo, BC and Elmer of Milwaukie, Oregon.  He was sadly predeceased by his parents Jacob and Carolina (Mutschall), who immigrated to Canada from Russia and Austria respectively, sister Dorothy (newborn), brothers Bernard and Ernest and son-in-law Murray Giroux.
 Willie was born in Ibsen, Sask., later moving to Weyburn, Sask., then Regina, Sask., and finally to Winfield, BC.  He worked in the Weyburn Flour Mill with brother-in-law to be, Andrew Roesslein and then in the Roesslein family business, City Fuel, delivering coal and wood.  As the demand for these fuels lessened, Andrew started up a gravel hauling and crushing business, A. Roesslein Construction and Willie bought his own gravel truck.  They mainly worked for rural municipalities in southern Sask., however some winters they hauled logs in northern Sask. (where an errant log broke his nose) and salt over frozen lakes in southern Sask.  Willie enjoyed playing soft ball in his younger years and was especially proud when Wilfred, Jr. became quite an accomplished pitcher in Weyburn.  He enjoyed sports of every kind but particularly his beloved Sask. Roughriders and Toronto Blue Jays.  He loved to play cards, especially bridge and crib and taught his children and grandchildren how to play crib as well.  Willie was a prolific gardener: his tomatoes and cucumbers were outstanding.  He liked to fish, although for many years he would never actually eat any of the fish he caught (in it for the sport, we guess).  He enjoyed listening to country and accordion music but it was difficult to get him on the dance floor.  Willie had an affinity for animals – he never met an animal that didn't instantly become his best friend (with the exception of snakes – never could tolerate them!)  In his later years, he faithfully did the daily crossword in the paper, using a dictionary and making up his own dictionary of common crossword clues which his daughter and later granddaughter, Danielle, faithfully typed out for him.  Willie will be remembered for his gentleness, patience and love of his family, particularly his grandchildren and great-grandchildren who were his pride and joy.  Per his wishes, Willie was cremated and his ashes will be interred with his father in Weyburn.  Memorial to be held in the Spring of 2018 in Weyburn.
 "Many tears we have seen and cried, they have all poured out like rain.  We know that you are happy now and no longer in any pain."
If you wish to send a condolence, post photos or share a memory, please scroll down the page to the area called "Share Your Condolences."
Service
Memorial to be held in the Spring of 2018 in Weyburn.