We Remember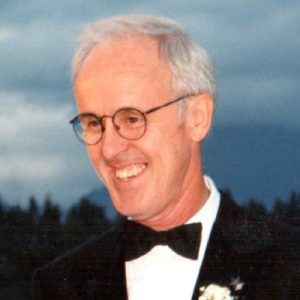 HANNA, William "Bill" Robert
April 26, 1937 — February 23, 2021
Bill passed away peacefully at the age of 83, with his family by his side on February 23, 2021.
Inspector Bill Hanna was a loved leader, husband, and father, and is survived by his loving wife Doreen (née Fraser) Hanna; eldest daughter Dawn Hanna (Brent Dorion) and step-grandson Nicolas; middle daughter Kelly Hanna (Ken Moen); and youngest daughter Hilary Hanna (Terry Charles), grandchild Leelan Charles, and step-grandchildren Tanya Forsyth and Kyle Charles, as well as step-great-grandchildren Corbin and Rowan Forsyth and Avery Charles. His memory will be cherished by his siblings: his brother Jim (Maureen) and sister Evie (Norman); brothers-in-law Gazley and Robert; sister-in-law Edie; and many nieces and nephews. Bill was predeceased by siblings: Betty (Dennis), Ernie (Sylvia), Sadie (Ken), Noleen, Alfred, and Roberta.
Born to Robert & Elizabeth (née Montgomery) Hanna in the village of Ballygawley, County Tyrone, Northern Ireland, Bill was the eldest of nine children. He served for two years on the Royal Ulster Constabulary before setting sail for Canada. Bill immigrated to Canada, the only one in his immediate family, and arrived in Halifax, Nova Scotia on April 10, 1957. After emptying his pockets at the train station, he was told he could travel as far as Edmonton, Alberta; so that is where he settled. In Edmonton, he found work as a mechanic and eventually joined the Edmonton City Police, along with the Police Pipe Band. Bill and his partner Wayne were the first officers in Western Canada to train in the new frontier of Technological Surveillance, an integral part of modern-day crime prevention. Bill was proud to serve and enjoyed a 32-year career with the City of Edmonton Police Force.
Bill was the responding officer to a reported prowler incident, and this is where Bill met Doreen. They married in Ponoka, Alberta in 1961 and raised their three daughters on an acreage just outside of Sherwood Park, AB. On Bill's days off he could be found working in the garage on one of the family vehicles; repairing just about anything brought to him, from furniture to shoes; or tending chickens, one of the three gardens, or the rest of the 3.5-acre acreage.
Known as a kind and gentle man, devoted father, husband, respected Policeman and Elder, who proudly and steadfastly served his family and community, Bill led with action and taught by example. No matter where you are, you are forever a guiding star. Thank you, Dad, with all our hearts.
The family is grateful for the special care and attention Bill received, from the caregivers and medical staff, during his last three years living at David Lloyd Jones Home. In lieu of flowers, donations may be made to David Lloyd Jones Home, A Gift to Honour Someone www.seniorsservicessociety.ca/donate
The family would like to invite all who want to pay their respects to join the Funeral Service online by Livestream on March 20, 2021 at 10:00 am. A recording will be made available to view shortly thereafter (see below)
If you wish to send a condolence, post photos, or share a memory please scroll down the page to the area called "Condolences".