We Remember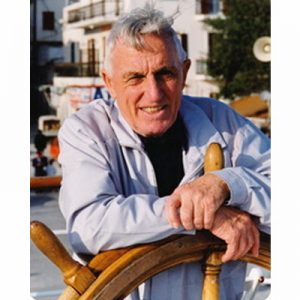 HARLAND, John Harford
May 8, 1923 — May 11, 2018
John developed an intense interest in ships and sailors at an early age; and enjoyed visiting the Belfast docklands as a boy and making ship models.
He enrolled as a medical student at Queen's University in Belfast in 1940, but after two years of medical school, volunteered to join the Royal Navy in December 1942. After a time at sea on a coal burning minesweeper he was promoted Sub-Lieutenant and served on Motor Launches in West Africa and in South Africa where he sailed motor fishing vessels from Capetown to Durban and served at the Naval Air Station in Capetown.  Leaving the Navy as a Lieutenant he returned to university and graduated as a doctor in December 1949.  He married Janet Morrison just after graduation, and they immigrated to Kamloops, BC in February 1951 where he worked as a family physician.  He trained for his Fellowship in Anesthesiology at Vancouver and Duke University in North Carolina.  Joining Underhill Clinic in Kelowna in 1960 as a general practitioner and working as an anesthesiologist at the Kelowna General Hospital, John retired in 1986.
During naval service he developed a special interest in sailing warships and steam whale catchers, which later resulted in book research and publication. John authored five books on maritime history:
Seamanship in the Age of Sail with Mark Myers (1984) Catchers and Corvettes: The Steam Whale Catcher in Peace And War 1860-1960 (with John McKay 1992) The Flower Class Corvette HMCS Agassiz with John McKay (1993) Ships And Seamanship: The Maritime Prints of JJ Baugean (2000) Captains And Windlasses: An Illustrated History of their use at Sea (2003).
Translating Peter Kirsch's Fireship: The Terror Weapon of the Age of Sail (2009) from German to English and contributing many articles to nautical journals.
Always a prolific reader; in the course of fieldwork he became familiar with several foreign languages reading German and speaking French and Norwegian.
On April 10, 2017 John was presented with the SS Beaver Award by the Victoria-based Maritime Museum of BC, he was recognized for his internationally respected maritime publications that feature advanced knowledge about sailing ship technology.
John has donated his entire library of books to the Naval Marine Archive Canadian Collection in Picton, Ontario.
Janet and John were happily married for 68 years. Janet and John travelled much of Europe and Greece from 1970-1990 enjoying memorable holidays.  Janet was the love of John's life.
John was an intelligent and talented man in the breadth and width of his interests and pursuits including a passion for X-country skiing. John was a true gentleman and a scholar; he was a remarkable researcher, historian and writer and a fascinating person to talk to.  John led a long and interesting life and will be missed by family and friends.
Three children: Jan and (Joe), Chris and (Stuart), Jack and (Lise), four grandchildren: Christina and (Dom), Jillian and (Ivo), Ian and Matthew and three great grandchildren: Harlow, Stevie and Leo will never forget this inspirational member of the family.
THANK YOU to the nurses and staff at Central Okanagan Hospice House for their kindness and the comforting surroundings.
"May he have fair winds and a following sea wherever he's bound we shall sorely miss him."
There will be a Celebration of Life on Friday, July 6 at 1PM at Springfield Funeral Home, 2020 Springfield Road in Kelowna.
In lieu of flowers, donations may be made to the Central Okanagan Food Bank, www.cofoodbank.com, or a charity of your choice.
If you wish to send a condolence, post photos or share a memory, please scroll down the page to the area called "Condolences."
Service
Friday, July 6 at 1PM
Location
Springfield Funeral Home
In lieu of flowers, donations may be made to the Central Okanagan Food Bank, or a charity of your choice. Link:
www.cofoodbank.com
Service Information
Service Details
The service for HARLAND, John Harford is scheduled for Friday, July 6 at 1PM . Below you will find the map for the service location and the contact information should you have any questions.