We Remember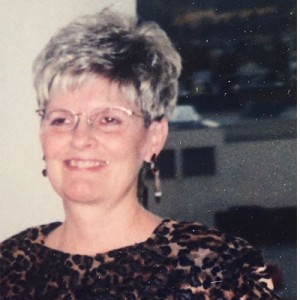 HEDSTROM, Valerie Ellen
—
Valerie Ellen Hedstrom was born on October 18, 1949 in Dryden, Ontario to Henry and Evelyn Toews and went to be with the Lord on October 31, 2017 at the age 68, in Kelowna, BC.
Survived by her loving husband of 31 years, Loyd of Kelowna; daughter Lexa (Steve) Downie of Surrey; sons: Jason (Cathy) Stubbington of Mission, Robert (Rachelle) Hedstrom of Mission, Warren (Allyson) Hedstrom of West Kelowna, Chad (Krista) Stubbington of Vancouver; grandchildren: Madison, Kade, Helania, Zion, Carter and Zoe; sisters: Vicky (Dave) Osmond of Surrey; brother Richard (Holly) Toews of Kelowna; nieces: Kim (Dustin) Andrei, Stacey Osmond, Meghan Toews; great nieces: Halston and Jordan, and great nephew Arius Toews.  Also survived by Aunt Connie (Dave) Gillespie of Reno, Nevada, Uncle Brian Toews of Surrey and many cousins.  Predeceased by her parents Henry and Evelyn Toews and nephew Jared Toews, and many aunts and uncles and cousins.
Valerie was a loving wife, mother and grandmother.  Loyd and Valerie raised five children in Surrey.  She was a devoted homemaker and partner to her husband of 31 years, Loyd, or "Loydie," or "Babe" as she lovingly called him.  Valerie loved spending time with her family.  She loved flowers, camping and reading.  Valerie touched the hearts of all she met, and she will be missed immensely, especially her beautiful lovely smile.   A family service will be held on November 11th in Manning Park.  Thank you to Kelowna General Hospital for your support and care.  In lieu of flowers, donations may be made to the Cancer Centre of the Southern Interior, www.bccancer.bc.ca.
If you wish to send a condolence, post photos, or to share a memory, please scroll down this page to the area called "share your condolences."
Service: A family service will be held on November 11th in Manning Park.
Service Information
Service Details
The service for HEDSTROM, Valerie Ellen is scheduled for A family service will be held on November 11th in Manning Park.. Below you will find the map for the service location and the contact information should you have any questions.