We Remember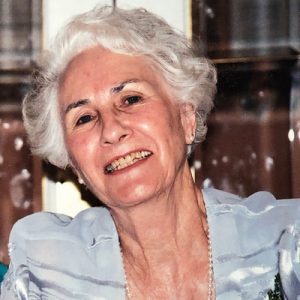 HENDERSON, Joanne (nee Roy)
December 2, 2020 — December 2, 2020
Joanne passed away peacefully at the age of 95 after a short illness. She was predeceased by her parents, Joseph and Mae Roy, four brothers – John, Phil, Willie and George. She is survived by her older sister, Evelyn, of Regina, SK. Joanne grew up on the family farm in Lampman, SK, before attending finishing school in Regina. In 1946 she moved to Calgary to work as a secretary at Westinghouse, where she met her husband, Fred Henderson. They were married in November of 1947 and celebrated their fifty-sixth anniversary just before his death in 2003.
Joanne was the matriarch of a large and rambunctious family. She was mother to nine children: Bill (Shawn), Jim, Diana (Carlo), Debbie, Ron, Kathy, David (Jin-me), Harry (Denise) and Anne, who will forever miss the warmth of her love, and are thankful to have had her support and gracious example as long as they did. Extended family included Coreen Henderson, Penny Lyons, and Angela Horrobin. Her thirteen grandchildren: Hanna (Iain), Jen (Mike), Kate (Dustin), Joe, Maddie, Allie, Erica, Karen (Cole), Hanum, Kihan, Fergus, Seamus and Hilary; 4 step grandchildren: Anne, Lori, Aila, and Theo; as well as her 7 great-grandchildren: Isobel, Monet, Violet, Otis, Merrick, Eleanor and Simone, whom will treasure memories of cuddles and sing-songs in the rocking chair, and happy days at the 'Henderson Hotel'.
She instilled values of discipline and hard work into her children, and was always active, both in and outside the house. She enjoyed cooking, baking, sewing, knitting, gardening and was an all-round super homemaker. Joanne and Fred were avid bridge players, and she played with the same group of women for over forty years. Even in casual games of cards or scrabble with her family she could become competitive, but always with a sense of mirth- "you can't catch me, I'm the gingerbread man!" Joanne and Fred played golf for over 30 years and belonged to Gallagher's Golf Club in Kelowna. She was also active in the Kiwanis Club. Joanne enjoyed the Okanagan Symphony and plays at the Community Theatre and performed in a couple of productions herself. She loved to sing and had a beautiful voice. In her later years she wrote the stories of her childhood for her grandchildren, illustrating them with her own watercolour paintings.
Joanne also had a very strong faith and was involved with the Catholic Church; first Immaculate Conception, and then St. Charles Garnier Parish. As well, she was a member of the Catholic Women's League (CWL) for over 60 years.
Fred and Joanne moved to Kelowna, September 1964. After a lifetime of working in the furniture business, Fred opened Alpine Furniture in 1971 with Joanne as partner. The success of their business was a blessing and enabled them to build a new home in the Mission and travels which took them to Europe, and cruises on the Caribbean. After retirement they enjoyed winters in Florida, Arizona and Hawaii.
Joanne gave so much love to her family and was given so much love and respect in return. She had a great sense of humour and shared so much laughter with the family right to the end of her long life, including throughout her final days. She will be remembered by her family and all who knew her as an elegant, compassionate, and strong woman of tremendous grace.
The family would like to thank the staff at Kelowna General Hospital and Glenmore Lodge for their excellent care for their mother during the last month of her life and acknowledge Penny Lyons for the tremendous care and friendship which she provided Joanne in her later years.
There will be a visitation at Springfield Funeral Home, 2020 Springfield Rd, Kelowna, BC on Friday, March 8, 2019 from 7:00 -9:00 pm and a Funeral Mass at St. Charles Garnier Parish, 3645 Benvoulin Rd, Kelowna, BC on Saturday, March 9, 2019 at 11:00 am. We welcome all who would like to celebrate our mother's life.
In lieu of flowers donations can be provided to a charity of choice. If you wish to send a condolence, post photos or share a memory, please scroll down the page to the area called "Share Your Condolences."
Visitation
Friday, March 8, 2019 from 7:00 -9:00 pm
Springfield Funeral Home
(2020 Springfield Rd, Kelowna, BC)
Service
Saturday, March 9, 2019 at 11:00 am
Location
St. Charles Garnier Church
In lieu of flowers donations can be provided to a charity of choice
Service Information
Service Details
The service for HENDERSON, Joanne (nee Roy) is scheduled for Saturday, March 9, 2019 at 11:00 am. Below you will find the map for the service location and the contact information should you have any questions.