We Remember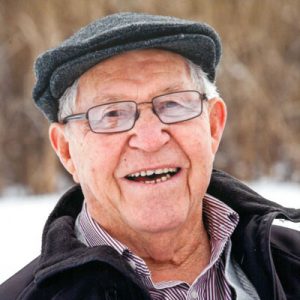 JANZEN, William "Willie"
October 20, 1931 — May 8, 2018
Willie Janzen, born October 20, 1931, passed into the arms of His Saviour on Tuesday, May 8, 2018.
He was born in Cuauhtémoc, Chihuahua, Mexico where he was raised by immigrant parents and relatives.  He lived his early childhood and teen years running through the countryside, riding horses and playing soccer with his cousins Nettie and Andy Janzen.  At the age of 12, he gave his life to the Lord when he attended Church where he heard the word of God being preached in Low German.  He was so impressed, that he decided, "If God could understand so many languages, that is a God I want to know and follow."
The family left Mexico and moved to Kelowna in 1946, where his parents bought property on Highway 97.
Willie went to Columbia Bible College in Clearbrook, BC, where he studied the Bible and got to know God as a personal guide for his life.
He returned to Kelowna to help look after his parents and took a job at the cannery where he worked as a machinery maintenance operator for 15 years.  If something went wrong on the line, the ladies would call, "Willie!" He would fix it and work would continue.
In 1959, he married his beautiful Katie and they built a house on his parents' property.  After several years working night shift, he came home one night to his wife and three daughters and said, "This isn't the life I want for my family."  He quit his job and went looking for an orchard to buy and settled down on Reid Road.
The family spent 45 years there, growing apples and relationships with family, neighbours and anyone who came into their home.  There was always time for coffee and baked goods or the family favourite—fresh apple or sour cherry pie. Willie would often walk through the orchard looking at his trees and talking to Katie about this tree or that one, or this block or that block.  These were more than trees and a livelihood;  they were something that he cared for.  Over the years Willie could be recognized by the cardigan and cap he wore.  They became his signature, never leaving home without them, rain or shine.  In the winter he would wear one to keep warm, and on the hottest summer day, that same one kept him cool.  Yup, he was cool.
After retiring and moving into town, Willie continued to build relationships with people.  He started going for coffee at the mall, meeting a group of guys whom he faithfully joined every morning.  If his kids were visiting he would say, "Is it ok if I go see the guys?" Of course, it was ok; that's who he was, always building relationships.
He will be truly missed by his wife Katie of 59 years and daughters Lil (Gil) Rueck, Hildi (George) Melzer, Carol (Andy) Hawkes, his grandchildren Jordi, Anna (Clayton) van Steenis, Libby, and cousins Andy Janzen, Nettie Avila, as well as many other relatives and friends.
Memorial Service Friday, May 18, 2018, at 1 pm at Mission Creek Alliance Church, 2091 Springfield Road, Kelowna, BC.
In lieu of flowers, donations may be made to Far East Broadcasting Associates of Canada www.febcanada.org.  Bringing the gospel to the Russian people became important to Willie in the last few years.
If you wish to send a condolence, post photos, or to share a memory, please scroll down this page to the area called "share your condolences."
Service
Friday, May 18, 2018, at 1 pm
Location
Mission Creek Alliance Church
Service Information
Service Details
The service for JANZEN, William "Willie" is scheduled for Friday, May 18, 2018, at 1 pm. Below you will find the map for the service location and the contact information should you have any questions.