We Remember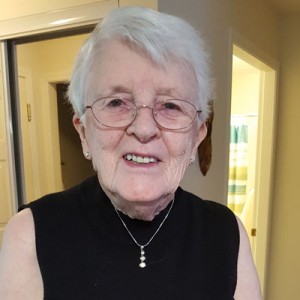 JONES, Helen
—
Helen Evelyn Jones, born December 5, 1929 in Edmonton, AB, passed away in Kelowna, BC on November 7, 2017. Survived by her daughter Charlotte Jones (Bob Wagar) of Kelowna, son David (Supajee) Jones of Airdrie, AB; grandchildren Thomas Jones and Irene Jones; sister Arlene Ramstead of Kelowna; brother Barry Wingfield of Roberts Creek, BC and numerous nieces and nephews.  Predeceased by her loving husband Norman Frederick Jones in 2012 and her brothers Donald Wingfield and Lawrence Wingfield.
Do not stand at my grave and weep
I am not there. I do not sleep.
I am a thousand winds that blow.
I am the diamond glints on snow.
I am the sunlight on ripened grain.
I am the gentle autumn rain.
When you awaken in the morning's hush
I am the swift uplifting rush
Of quiet birds in circled flight.
I am the soft stars that shine at night.
Do not stand at my grave and cry;
I am not there. I did not die.
Celebration of Life will be held at a later date. Should friends and family so desire, memorial donations may be made to Kidney Foundation of Canada (BC) www.kidney.ca, BC Cancer Society www.cancer.ca, Heart and Stroke Foundation www.heartandstroke.ca. If you wish to send a condolence, post photos or share a memory, please scroll down the page to the area called "Share Your Condolences."