We Remember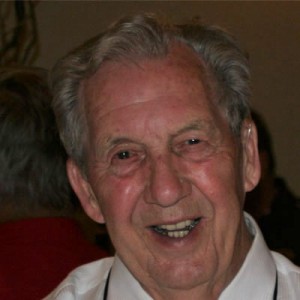 KERR, Morris
—
It is with heavy hearts that we announce the peaceful passing of our dearly beloved father, grandfather and great grandfather Morris Kerr December 6th, 2017 at the age of 96.
Morris  is predeceased by his loving wife of 56 years Grace (Patchett) Kerr and their cherished middle child Colin.
He leaves his eldest son Brian (Jan Went); devoted son Stewart (Janet); his 4 grandchildren Brydie (Russ), April (Kale); Cody and Dustin (Mackenzie); His 6 great grandchildren, Reese (9), Liam (8), Lea (6), Charlie (5), Bates (4), Kayson (1 month); His sister-in-law Joy Kerr and numerous nieces and nephews.
Morris was born in Dunfermline, Scotland January 23rd, 1921. After completing high school, he began an architectural apprenticeship and attended Herriot-Watt College in Edinburgh on a Carnegie scholarship.
In 1940, as a result of first aid and medical training within the Rover Scouts, the Red Cross and St. John's he is recruited into the medical corps and is posted to a R.A.F. squadron just outside London. In January of 1941 he is sent to Canada with the R.A.F. arriving in Halifax and then on to Medicine Hat for the opening of the #34 Service Flying Training School. In 1942 he is posted back to Britain to Air Sea Rescue in the North Sea. Next, he goes to India with the first convoy through the Mediterranean in 1943. His itinerary included through the Suez to Bombay, by train to Calcutta, truck to Chittagong and eventually truck to Cox's Bazaar and Burma. After 10 months and four bouts of malaria he was moved out to a rest area in Darjeeling. On to Ceylon (Sri Lanka) back to Jessore, just north of Calcutta for parachute training. He is then assigned to the army Force #136 (Special Force). The end of the Japanese War found him in Singapore, where he waited 5 months for a ship home in May of 1946 to Britain.
Later that year he travelled to a job in Montreal with an architectural firm, W.J. Rosenburg, then on to Calgary with a position with Stevenson and Associates where he stayed for 27 years, becoming a partner in 1954.In May of 1948 he married the love of his life Grace Patchett who hailed from a ranching family around Gem, AB.
They purchased a quarter section on the little Red Deer River near Cremona (affectionately named Kerraglen) where Grace kept her four horses and the family spent many happy weekends and summers. Morris designed and built a retirement home on the property but as often happens with "the best laid plans" after meeting his granddaughter Brydie in Kelowna, they sold that property, purchased 5 acres in the Mission area in January of 1982, moved the horses out and Morris designed another retirement home, this one he would actually live in.
The Okanagan was a great fit, allowing Morris the opportunity to golf and Grace to quilt and garden. Between time spent at KG & CC, he did architectural work for five years with Reid, Crowther and Partners, Don Folk and BC Hydro at the Mica Dam. Many happy weekends spent with the grandkids riding horses and participating in swim lessons with Grandpa. His unorthodox method consisted of strapping the grandkids into a horse's belly strap attached to a pole while he walked laps around the pool.
Morris has always been able to give back a little of his time for community affairs and a few include the Medicine Hat Rotary Club, President, Kiwanis Club Calgary, 1965,  Lt. Governor, Kiwanis 1966 where he received a presidential citation in recognition of the organization of a new club in Canmore, AB, Honorary President of the Burns Club Calgary, Past Director of the Calgary Exhibition and Stampede, Chairman and Director Salvation Army Advisory Board Calgary, President of Kelowna(Downtown) Rotary Club 1988 -89 and self-described Kelowna Golf & Country Club Senior's Scribe.
For all of his accomplishments Morris was a humble man who lived a life of gratitude. His final years were lived enjoying many visits from his family, particularly his great grandchildren who gave him many laughs and were a source of great pride. Morris' family is forever grateful to his caregivers at Lakeview Lodge / West Kelowna who treated him with kindness and respect in his final year of life.
A private family service will be held at Kerraglen on the Little Red Deer River near Cremona, Alberta in the spring of 2018.
Memorial donations may be made to the Salvation Army, an organization near and dear to Morris's heart or a charity of your choice.
If you wish to send a condolence, post photos or share a memory, please scroll down the page to the area called "Share Your Condolences."
Memorial donations may be made to the Salvation Army, an organization near and dear to Morris's heart or a charity of your choice. Link:
www.salvationarmy.ca