We Remember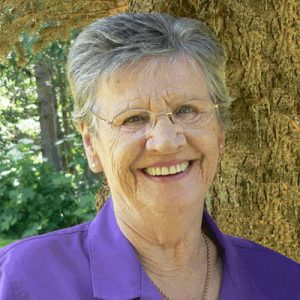 KURTENBACH, Adriana/Audrey
May 5, 1936 — January 3, 2019
Adriana/Audrey Kurtenbach (Sluymers) passed away peacefully with family by her side on January 3, 2019 at the age of 82. She has returned home to be with our Savior, free of the disease that plagued her for so long and is dancing in heaven with those who have gone before her. This includes her parents, Francisca and Gerrit, brother Abraham, sisters Rita and Johanna, granddaughter Nicole and many other family members and dear friends.
Audrey was born on May 5, 1936 in the Netherlands in the small village of Heusden where she grew up with her parents, three brothers and three sisters. Audrey was a rather precocious child, but thankfully was well liked by the nuns who were her teachers and was especially favored by Mother Superior! She was a great daughter and sister and was often the caregiver of her younger siblings. Their family miraculously survived intact through WWII and most immigrated to Grande Prairie, Alberta when Audrey was 17. It was there that Audrey met and married the love of her life, Raymond Kurtenbach at the age of 20. They went on to have two girls, Colleen and Jacqueline. Audrey worked as a nanny/housekeeper, bank teller and in retail until she became a homemaker after having Colleen. As a stay-at-home mom she worked tirelessly and with pride alongside Ray to build an amazing life for her family! She somehow managed to run a home, sew dresses, knit, do various needlework crafts, paint the house, do yard work and so much more. She was a Superwoman!  When the kids got older, Audrey and Ray bought and ran women's clothing stores in Grande Prairie, Peace River and Fairview. She insisted on buying a dishwasher so that it would make doing the dishes easier for her girls when she went back to work. She was always thinking of others and what she could do to make their days easier or better.
There really is no concise way to describe Audrey, lovingly referred to as Aut, Autcha, Liefje schat (darling treasure/sweetheart), Mom, Oma and Auntie. She had an amazing, larger-than-life personality and a radiant smile that filled the room. She made a lasting impression on all who knew and loved her.  Audrey made a home where no one was a stranger, and all were welcome. While living in Grande Prairie and raising a family, the Kurtenbach home was often filled with friends and family and the basement was a well-known party place. For all who remember the carpet on the walls, the stuffed owl hanging at the bottom of the stairs and the impressive bar at the far end of the basement, many a celebration of friends and family was hosted there. Audrey enjoyed having a good time, and there was often friendly banter exchanged between loved ones. When they moved to Kelowna for retirement, their home was once again filled with friends and visiting family for games of cards, darts, shuffleboard and ping pong.
Although Audrey leaves behind her husband of over 62 years, Ray; daughters Colleen (Reg) and Jackie (Greg); grandchildren Alexander (Tifany), Angelique, Samantha, Justin and Rebecca; sister Jacoba/Coby; brothers Gerrit and Frans; and many others who loved her…we know it is not goodbye, it is just until we meet again.
We would like to give special thanks to Audrey's physician of over 30 years, Dr. Michael Bobyn and to the staff of Village at Smith Creek where Audrey lived for the last seven years. The love, exceptional care and compassion that has been extended to the entire family throughout this season of life is so appreciated. We will be forever grateful!
Should family and friends so desire, memorial donations may be made in Audrey's name to the Alzheimer Society of British Columbia at www.alzheimer.ca.
If you wish to send a condolence, post photos or share a memory, please scroll down the page to the area called "Share Your Condolences."
Should family and friends so desire, memorial donations may be made in Audrey's name to the Alzheimer Society of British Columbia at www.alzheimer.ca. Link:
www.alzheimer.ca