We Remember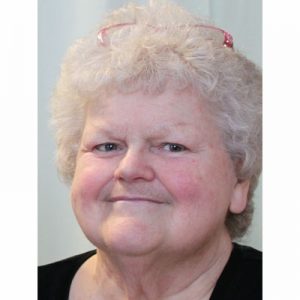 GRAF, Marjorie
November 13, 1939 — July 14, 2018
It is with great sadness that we announce the passing of Marjorie Ann Graf.  Marjorie was born November 13, 1939 in Winnipeg, Manitoba to Joseph Edward Driscoll and Frances Ruth (McKay) Driscoll.  She passed away on Saturday, July 14, 2018.
Her family moved to Kelowna in 1955.  That is when that quiet, shy, innocent little Marjorie met that handsome, motorcycle-riding, leather-clad, German immigrant named Hermann.   She was smitten.  They were married on April 11, 1960.  Their first born, Sandra came in September of that year.  Hmmm April 11 to September hmmmm, just sayin' Sandra was obviously premature, right?  Along came Laurie in 1962 and Donna in 1963.  Poor Maggie wondered how many children she'd have by the time she was 30.
Marjorie worked at the Shady Rest Fish & Chips in 1958 when an order of halibut & chips were 40 cents and 10 cents for an extra piece of fish.  She remembered those prices to her dying day even through her dementia. Marjorie started working for McGavins Bakery in 1966 and remained there until the plant closed in 1982.  She made life-long friends there and still misses Dot Girard, Betty Holoien and Mary Lizette and just last week visited with Lorraine MacDonnell.   She worked as their data input person for their brand-new computer that took up a whole office.
Marjorie enjoyed doing needlepoint, knitting and crocheting. We all now have more doilies and needlepoint pictures than we'd planned, but they mean so much more.  She loved having the ladies over for "stitch & b****h" evenings.  She loved to read but was disappointed to have to switch to large print books.  The Waltons, Wind at My Back and Little House on the Prairie were her favorite shows.  How many times can you watch them, Mother?  For soooo many years she was a Young and The Restless fan.  Damn you, Victor Newman!  Dementia took that away from her, too; she just forgot to watch.  Every day she'd say, "I was watching CNN and they had "BREAKING NEWS" and I was hoping someone finally shot [email protected]$#p!
We convinced her to be the surprise in the birthday cake for her son-in-law Dwayne's 50th birthday.  Nothing too scandalous but oh, Hermann would have enjoyed that! She enjoyed going to May Bennett Day program where they played to her vanity by telling her how smart and funny she was.  She thoroughly enjoyed going but she hated getting up in the morning, so tended to miss quite a few days.
In 2010, she gave us a scare by dropping dead at a gas station across from Orchard Park.  But that wasn't her day.  Everything worked in her favour, the paramedics were nearby they, along with the doctors at KGH did their best work and brought her back to us.  In Dr. Fradet's talented hands she had a quadruple bypass and her valve replaced with a little piggy one.  Thanks to all of them, we've had the pleasure of her wit, wisdom and sass for another 8 years.
Marjorie was predeceased by her husband Hermann Josef in 1988 when he died in Peachland from anaphylactic shock while driving his semi home from Vancouver. He was only 48.  Her father Joe in 1969, sister-in-law Annie in 1972, Mother Frances in 1989, her sister Patricia Davis in 2006, brother Ken in 2007, brother Fred in May 2018 and Fred's wife Madeline in 2017.  She missed her friend Mrs. Erika Lejins of Quesnel with whom she spoke every day until her passing in August 2016 just before turning 102.
Marjorie will be missed by her 3 daughters, Sandra (Dwayne) Jeaurond and their children Dylan and Shelby, Laurie and her daughters Kylie and Stephanie and Donna (Brian) Lauer and their children Cody and Brianna. Also survived by her sister Jean Bulach (Leo) and their daughters Lisa, Carrie and Sherry, her baby brother Don (Dale) and their children Bobbi and Shane, brother-in-law Wilfred Davis and his sons Ross and Todd and sister-in-law Faye Driscoll.  Also her brother-in-law Michael Graf (Joyce) and their children Mark, Scott and Tracy, sister-in-law Christa (Tom) Marchant and their daughter Kimberly and sister-in-law Maria (Eli) Nevacshonoff and their children April, Josh, Jason and Misty.  She will also be missed by her best friend of over 62 years Shirley Anton of Armstrong with whom she spoke daily.  Shirley can't remember ever having an argument with Marjorie in all those years.
We'll miss you, Maggie!  Good bye, good luck and may the good Lord take a likin' to ya!
Please join us to celebrate the life of our dear mom on Saturday, July 21 at 10:00 a.m. at Springfield Funeral Home 2020 Springfield Rd, Kelowna, B.C.  In lieu of flowers, donations in Marjorie's memory may be made to the Kelowna SPCA, https://spca.bc.ca/locations/kelowna/  3785 Casorso Rd., Kelowna or to the Canadian Angelman Syndrome Society, www.angelmancanada.org P.O. Box 68195 Crowfoot PO, Calgary, Alberta, T3G 3N8.  Angelman Syndrome is the disorder that Marjorie's grandson Dylan has.
If you wish to send a condolence, post photos or share a memory, please scroll down the page to the area called "Share Your Condolences."
Service
Saturday, July 21, 2018 at 10:00 a.m.
Location
Springfield Funeral Home, 2020 Springfield Rd, Kelowna, BC
Service Information
Service Details
The service for GRAF, Marjorie is scheduled for Saturday, July 21, 2018 at 10:00 a.m.. Below you will find the map for the service location and the contact information should you have any questions.