We Remember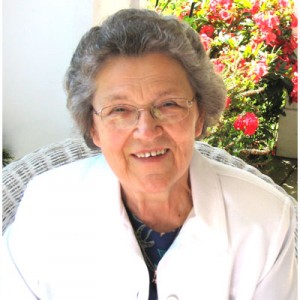 MELZER, Tabea
—
Tabea Melzer was born on July 11, 1934, to her parents Johan and Maria Wittmeier in Solomka, Poland (which is in modern day Ukraine). She was the oldest of seven children and at age 15 accepted Jesus as her Lord, being baptized on March 25, 1951, by Rev. Klempel in Uslar, West Germany.
The war years were difficult. On January 28, 1940, the family was resettled from Solomka to Josefow, Warthegau (which is in modern day central Poland).  Four years later, on January 18, 1945, Tabea, along with her mother and three younger siblings were forced to flee Poland in a grueling three-week journey that took them to Hohnaven, East Germany (a small town outside of Berlin).  There they waited until they could be reunited with Tabea's father.  Finally, in March 1946, the family was together again and settled in Schlarpe, West Germany.
On May 28, 1954, Tabea immigrated to Canada and joined the community at Mission Baptist Church in Winnipeg. On May 7, 1960, Tabea married Waldemar Melzer.  The marriage was blessed with three sons before the family moved to Kelowna on August 31, 1969.  In Kelowna, they were blessed with a daughter and the family joined Grace Baptist Church.
Tabea was a person who loved the Lord with all her heart, soul, mind and strength. She read her Bible regularly and clearly understood what it means to have a personal relationship with Jesus.  She would weave this understanding into many conversations and often quoted scripture, citing verses first in German and then translating them into English.  A devoted wife and mother, she always worked hard and put the needs of her family first.  Her interests included nutrition, political science and history.  She valued education and loved to read.
In January 2016, Tabea was diagnosed with cancer. She died peacefully at Central Okanagan Hospice House in Kelowna on Friday, April 21, 2017.
Tabea was predeceased by her husband Waldemar in 1993. Her memory will be cherished by those of us remaining: her son George and wife Hildi; her son Bernie and wife Julia; her son Dennis; and her daughter Verena and husband Paul.  Tabea will also be dearly missed by her grandchildren Jordi, Anna and husband Clayton, Jillian and husband Manny, Emily, Josiah and Abigail; along with her great-grandchildren Uriah, Isaac and Havana, and many other family members and friends.
There will be an opportunity to pay your respects to Tabea and visit with the family on Thursday, April 27, 2017 from 7:00 pm until 8:00 pm at Springfield Funeral Home, 2020 Springfield Rd, Kelowna, BC. The Funeral Service will be held on Friday, April 28, 2017 at 10:00 am also at Springfield Funeral Home with Clair Jantzen officiating. Interment to follow at the Kelowna Memorial Park Cemetery. In lieu of flowers, memorial donations may be made to Freedom's Door www.freedomsdoorkelowna.com. If you wish to send a condolence, post photos or share a memory, please scroll down the page to the area called "Share Your Condolences."
THIS SERVICE WILL BE LIVESTREAMED/BROADCAST ON FRIDAY, APRIL 28, 2017 AT 10:00 AM.
Service: Friday, April 28, 2017 at 10:00 am
Location: Springfield Funeral Home
Service Information
Service Details
The service for MELZER, Tabea is scheduled for Friday, April 28, 2017 at 10:00 am . Below you will find the map for the service location and the contact information should you have any questions.