We Remember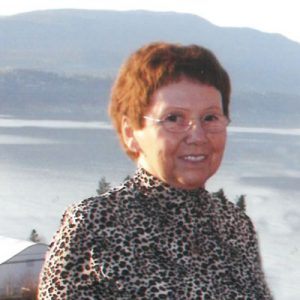 MUELLER, Bertha
January 2, 1934 — May 22, 2018
Bertha Mueller, long time resident of the Kelowna area, died Tuesday morning, 22nd of May, at her care home surrounded by her family.
Bertha was born on January 2nd, 1934 in Stara Dombrowa, Wolhynia, Poland to Herman and Meta Steinke, the middle child in a family of three girls. Here the family lived a simple lifestyle on a farm. The Second World War brought hardship and uncertainty, resulting I the family resettling several times and finally finding refuge in West Germany in 1945. After her father was released from military prison, the family immigrated to Canada. 1950 saw the family settling in Edmonton, Alberta where Bertha found employment in department stores. She was sought after by customers as she could speak German to an ever-increasing Immigrant community.
In 1956, while visiting relatives in Vancouver, she met her husband, Herald. In 1957, Herold and Bertha were married in Vancouver where they had two children, Heidi and Harold. The family moved to Kelowna in 1970.
Bertha enjoyed the Okanagan lifestyle of sunshine and fresh fruit. She was an avid cook and baker and enjoyed making jams and preserves for her family and guests. In addition, she enjoyed camping trips with her children and grandchildren, especially in the Shuswap area. In Kelowna, after learning to drive, Bertha worked at Sears until her retirement. Upon retiring, Bertha spent as a much time as she could with her children and grandchildren; family was paramount to her.
Bertha is survived by her husband Herold; two children Heidi (Grant) and Harold (Dayna) and her two sisters Theresa and Erika. In addition, she is lovingly remembered by her five grandchildren, one great grandchild, nieces, nephews, as well as step-grandchildren and step- great grandchildren.
The family would like to extend a special thank you to the staff at Cherry Court of Vantage Living, formally known as Brandt`s Creek Mews, where Oma, as she was known to all, received exemplary care during the last two and a half years of her life.
Graveside service at Kelowna Memorial Park Cemetery to be held on Friday, June 1, 2018 at 10:00 am. Celebration of life at Springfield Funeral Home at 10:45, reception to follow. Memorial donation may be made to the Alzheimer Society of Canada.
Condolences may be sent to the family by visiting www.springfieldfuneralhome.com, 250-860-7077.
If you wish to send a condolence, post photos, or to share a memory, please scroll down this page to the area called "share your condolences."
Service
Friday, June 1, 2018 at 10:00 am at Kelowna Memorial Park Cemetery with a Celebration of Life at 10:45 am at Springfield Funeral Home