We Remember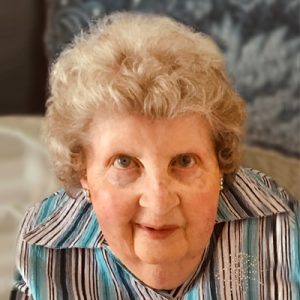 MYRDAL, Noreene Patricia
—
Noreene passed away peacefully at Kelowna General Hospital surrounded by her loving family on September 23, 2019, in her 85th year. Noreene is survived and will be sorely missed by her six children, Ken (Anna), Gordon (Connie), Jim, Doug (Mercy), Cheryl, and Steve; and 10 grandchildren, Christina, Alex, Christopher, Frisco, Melissa, Corey, Caden, Justin, Nyeleti, and Alicia.
Noreene was born in Edmonton, Alberta and moved with her husband Arnold (d. 2004) to Vancouver in 1958. She later moved with Arnold to Kelowna, British Columbia in 1998.
Daughter of Stewart and Charlotte (née Follis) Patterson, Noreene spent her senior high school year in Michigan, where, as an exotic Canadian, she was voted Harvest Queen. Noreene's quick fingers served her well as both an avid pianist, and an office stenographer from age 18 until just before the birth of her first child in 1958. Her most important career as a homemaker began shortly after and continued until her 'retirement' in 2012.
A selfless and loving person, Noreene always put her family ahead of herself. She was always there with a sympathetic ear, a heartfelt hug, or pithy advice, whatever the situation required. Her prim and proper ways were with her to the end.
Noreene always enjoyed a hot cup of tea while solving crossword puzzles and word-jumbles, or enjoying her favourite procedural dramas on TV or in movies.
Service will be held at 10:00 a.m. on Monday, September 30, 2019 at Springfield Funeral Home, 2020 Springfield Road, Kelowna, BC. Noreene will be laid to rest in Kelowna Memorial Park Cemetery with her beloved Arnold. In lieu of flowers, donations may be made in Noreene's memory to the Canadian Cancer Society, www.cancer.ca. Memorial arrangements have been entrusted to Springfield Funeral Home. If you wish to send a condolence, post photos or share a memory, please scroll down the page to the area called "Condolences".
Service
Monday, September 30, 2019 at 10:00 am
Location
Springfield Funeral Home