We Remember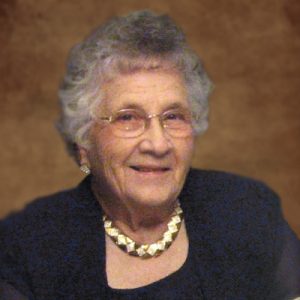 NEUMAN DREGER, Mildred Irene
August 27, 1923 — June 22, 2019
Mildred Irene Neuman Dreger went to be with her Lord on June 22, 2019. She was born to Emmanuel and Rosa Weisser in Camrose, AB on August 27, 1923. She was predeceased by her first husband, Reinhard Neuman in 1982, and her second husband, Norman Dreger, in 2009, as well as all but one of her siblings.
"Reilly" and Mildred were married in 1942 and raised 5 children as they ministered in Alberta, Saskatchewan, Nigeria (Africa), and Kelowna. When Reilly passed away, mom remained in Kelowna for 4 years before she re-connected with another pastor, Norman, whose wife had passed away. They were married in 1987, together they lived and ministered in Alberta and Kelowna. They moved into Sandalwood in 2006 where they made friends and enjoyed having their meals provided! Mom remained there until early June. She spent her last two weeks in Hospice. Mom will be missed by her sister, Phyllis of Camrose, her 5 children and their families, and her 4 stepchildren and their families. She was blessed to be "Grandma" to 22 and "Great Grandma" to 30! We are grateful for her life and thankful that she is now at rest with Jesus.
A Memorial Service will be held on Friday, July 5, 2019 at 1:00 pm at Springfield Funeral Home, 2020 Springfield Road, Kelowna, BC. Memorial donations may be made to Trinity Missions www.trinitychurchkelowna.ca/missions.
If you wish to send a condolence, post photos or share a memory, please scroll down the page to the area called "Condolences."
THIS SERVICE WILL BE BROADCAST/LIVESTREAMED ON FRIDAY, JULY 5, 2019 AT 1:00 PM
Service
Friday, July 5, 2019 at 1:00 pm
Location
Springfield Funeral Home
Service Information
Service Details
The service for NEUMAN DREGER, Mildred Irene is scheduled for Friday, July 5, 2019 at 1:00 pm . Below you will find the map for the service location and the contact information should you have any questions.