We Remember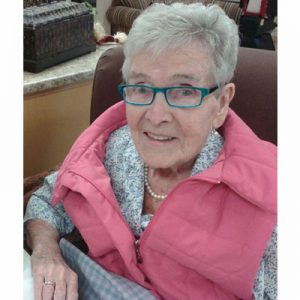 NIEREISEL, Inge Mary (Nee: Quadfasel)
—
On the glorious Spring morning of Wednesday, May 2, 2018, our beautiful mother, wife, Oma, friend and artist passed away at the age of 90, holding her daughter's hand.  I could have held my mom's hand forever!  I'm sure that my brother Orville was waiting for her with open arms in heaven, as it is his turn now to have Mom for himself!  As my sister-in-law Barbel said, "A light has gone out.  We are feeling so lost and sad; yet, knowing that she is out of her discomfort, gives us some peace."  Survived by her loving husband Walter; daughter Susan Faoro and her husband Oscar Faoro; daughter-in-law Barbel Niereisel; grandchildren: Julian, Kaelyn and Trevor Faoro; great grandchildren: Brody and Tatem Faoro, as well as many loving relatives in Germany.  Predeceased by her son Orville Niereisel.
We will have a celebration of Ingelein's incredible and artistic life on her birthday, Sunday, July 22nd at 2:00 pm in the Faoro's garden, which she loved.  In the meantime, please plant a flower or pick a lovely bouquet for yourself and think about Ingelein!  The bond between a mother and daughter is so strong and precious, she will be with me forever!
Leuchtende Tage!
Nicht weinen dass sie vergangen.
Sondern Laecheln dass sie gewesen sind!
The family would like to thank the staff at Brandt's Creek Mews, Dr. Erica Scheffler (who has been an angel) and Dr. Roberto Leon (who made mom smile with his warm and cuddly affection) for their compassion and care.  I am so grateful to Ursula, one of Mom's best friends, for all she has done—especially for our last girl's day when we washed and styled Mom's hair and shared a glass of wine together. To my wonderful girlfriends who graciously included Mom in our lunches, sweet Debbie, who was like a daughter to Mom as well and supplied her with delicious chocolates that she loved.  I thank you with my heart.  And thank you to Oscar for giving me the privilege of being with mom till the end.
"Don't cry because it's over; smile because it happened."
If you wish to send a condolence, post photos or share a memory, please scroll down the page to the area called "Share Your Condolences."
Service
Sunday, July 22nd at 2:00 pm
Location
In the Faoro's garden.
Please plant a flower or pick a lovely bouquet for yourself and think about Ingelein!
Service Information
Service Details
The service for NIEREISEL, Inge Mary (Nee: Quadfasel) is scheduled for Sunday, July 22nd at 2:00 pm . Below you will find the map for the service location and the contact information should you have any questions.