We Remember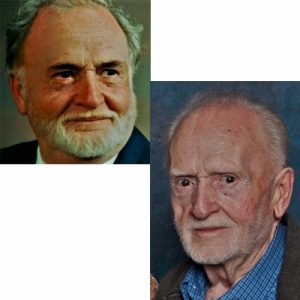 ROBERTS, Thomas Donn
May 11, 1927 — February 4, 2019
Donn Roberts, father, grandfather and friend to many, passed away on February 4, 2019 in Kelowna at the proud age of 91.  Born to parents Ella (d.1975) and David Roberts (d.1954) in Fort Saskatchewan, Alberta, he is survived by children Michael Roberts (Ellen), Cathy Parmenter and Patrick Roberts (Lisa), as well as seven grandchildren, four great-grandchildren and one great-great-grandchild.  Growing up in Fort Saskatchewan with brothers Glyn (d.2014) and Jack, Donn was active in hockey, tennis and curling.  After attending university in Edmonton, Donn married Margaret Dory on November 19, 1951, where they lived until buying a large farm in Stony Plain, Alberta in 1962.  Their lives in Alberta included many close family friends, lots of hard work, and the birth of all three of their children.  In July 1967, the young family moved to the Okanagan where Donn established Kingswood Kitchens in Rutland.
Throughout his life, Donn was keenly involved in the building and construction industry.  His ability and willingness to take on almost any project was known to everyone.  There seemed to be nothing he couldn't build or fix.  Later in life though, his passion for photography and art came to the forefront.  Moving out of the Okanagan in 1998, he established The Celtic picture framing and art studio in Trail, becoming a well-known community member.  The Celtic name of the business reflected his proud Welsh heritage.  Although born in Canada, some of Donn's fondest memories were visiting the homes of extended family in the villages of southern Wales.  He maintained many close contacts in places such as Penmark, Rhoose, and Cardiff throughout his life.  Both the Canadian and Welsh flags flew proudly in his front yard.
The family wishes to thank the family friends, neighbours and health care providers who supported Donn so kindly in recent years.  Special thanks to the residents and staff of Angus Place (Summerland) and Mission Creek Landing (Kelowna) for their warm support and care of our father this past year.  He always spoke highly of all those around him, wherever he lived throughout his life.  His family as well as his friends will miss him dearly.
A celebration of life will be hosted by the family at a future date.
If you wish to send a condolence, post photos or share a memory, please scroll down the page to the area called "Share Your Condolences."