We Remember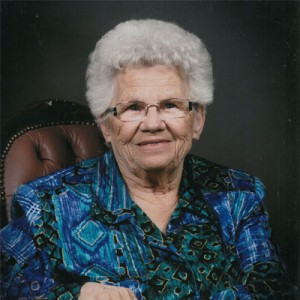 ROY, Anna
August 25, 1929 — February 26, 2018
Anna was born on August 25, 1929 to Alfred and Leonidas Couturier. She was the fourth of fourteen children. When she was 13 she started helping other farmers wives with their children and farm chores. Anna married Antonio Roy on September 30, 1947 at 18 years of age and together they homesteaded in Jean Cote, a small hamlet in northern Alberta and had eight children: Cecile in 1948, Julienne in 1949, Eugene in 1950, Simone in 1952, Jules in 1953, Germaine in 1956, Diane in 1957 and Francois in 1959. They worked very hard to support the family and came through some very difficult experiences in those years. There were also many good family times. During the summers the girls would pick food from the garden and in the evenings we had family fun in a circle on the front porch shelling peas, cutting carrots, getting beans and beets ready for canning which mom did during the night. We also harvested the best strawberries and raspberries in the county. Many hours were spent picking wild fruit to preserve for the long cold winters. We had acres of potatoes that we cultivated and sold to the community. Anna would bake 8 to 10 loaves of bread two or three times a week for their growing family. The children attended a private one-room schoolhouse with grades 1-8 and one teacher. The school was one mile from the homestead.
In 1967 the family moved to Peace River town where they bought a custodial and maintenance business and renamed it 'Roy's Janitor Service' which they owned and operated until 1972. While in Peace River they celebrated their Silver Wedding Anniversary.
Shortly thereafter, the family made the big move to Kelowna, seeking a warmer climate. In Kelowna they did custodial work at Western Star Trucks. They eventually moved into an apartment to retire and ended up being managers for three complex apartment buildings on Pacific Court. They enjoyed their years in Kelowna. Antonio hooked rugs and Anna knitted and crocheted – hence, they were known as 'The Happy Hookers.'  When Antonio could no longer work, Anna decided to get a job at Joseph Benjamin resident care home where she worked until she retired at 68 years of age. She was a great asset there and was loved and respected by the residents and staff. Antonio became ill and she was his caregiver until she could no longer do so for him at home. He was then placed in a care home and every night she would faithfully visit him and bring him his thermos of tea. Antonio passed away in 1993 at which time she retired from her job. In her retirement she enjoyed sewing and mending, knitting and crocheting, doing jigsaw puzzles and hooking rugs. She made hundreds of pairs of slippers and she also made afghans for each child and grandchild. Anna had always wanted to travel, so she decided to spread her wings and broaden her scope. When she was invited on a cruise ship holiday with her children, she jumped at the chance. She enjoyed it so much that two more cruises followed. She also travelled to Mexico and other destinations with her children. She was enthralled watching her children parasailing in Mexico and many other events, including holding a 100 year old turtle in Grand Cayman Island. Eventually she became a resident at Mountainview Village, initially in assisted living and in due time was transferred to Complex Care.
Anna passed away on February 26, 2018 with her children by her side. We would like to thank all the wonderful staff at Mountainview Village who loved her and cared for her so diligently.
Anna was very loved and respected by her children and everyone who knew her. She was always willing to lend a helping hand to anyone.
If you wish to send a condolence, post photos or share a memory, please scroll down the page to the area called "Share Your Condolences."