We Remember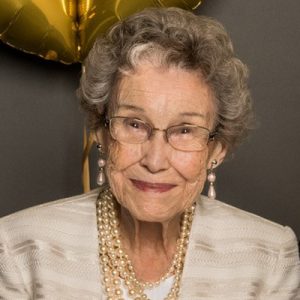 STEER, Louise
—
It is with great sadness we announce the passing of Louise Eola Steer (née Greenway) on Tuesday, September 3, 2019 in Kelowna, BC at the age of 101. She passed away peacefully in hospital surrounded by her family. She will be lovingly remembered by her son Donald (Henrietta), daughters Sandra White and Patricia (Jean) Verrier, and her many grandchildren, great grandchildren, great-great grandchildren, nieces, nephews, Sister-in law, Brother-in law, and her many friends. Predeceased by her loving husband Malcolm "Mac" and all of her siblings.
Louise was born at home on the farm near Wymark, SK on Sept 25, 1917. As the eldest of 6 children she was always busy cooking and cleaning and helping out on the farm. In 1937 Louise decided to move to Vancouver. BC where she met and married Mac in 1940. Through Mac's work in the Aviation Industry they lived in many different places including Seattle, WA; Swift Current and Weyburn, SK; Gimli, Winnipeg, The Pas and Churchill, MB; Vancouver, BC; and nearly 20 years overseas in Amsterdam. This provided an opportunity to explore much of Europe as well as travel to many continents. After retirement in 1981 they returned to Canada and settled in the lovely Okanagan Valley, BC. They spent many winter vacations with Louise's family in Florida, as well as Arizona and Mexico.
Louise had many interests; she was a long-standing member of Eastern Star and the Federation of American and Canadian Women's Club Overseas. Louise played a very active role in this club hosting many large events and was honoured to be a guest speaker at one of the annual conventions in Phoenix, AZ.  She loved traveling and reading, and she was an avid Bridge player who continued to enjoy her games right up until the end. She loved having company and was renowned as a hostess extraordinaire. She was gracious and kind and the most loving mother one could ask for. We will miss her dearly.
A private family service will be held in Kelowna, BC. Condolences may be sent to the family by visiting www.springfieldfuneralhome.com.