We Remember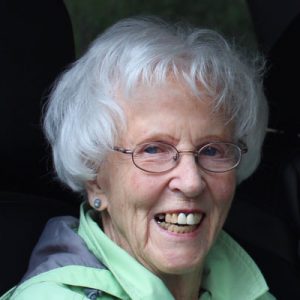 STIELL, Rosemary
September 30, 1922 — December 30, 2018
Our beautiful, vivacious and loving aunt Rosemary has slipped away, in her 97th year.  She was the youngest child of Benvoulin pioneers and Scottish immigrants, Gilmour and Margaret Stiell.  She had a distinguished career with External Affairs, living in many parts of Europe and Asia, including the first Canadian embassy to China, before retiring to Kelowna.
Predeceased by her sisters Marjorie Hobson, Nancy Wilmot and brother William Stiell, and her nephew David Hobson (Margaret).
Survived by nephews Ian Stiell (Kathy), Robert Hobson (Adair); niece Jennifer Stiell; step nieces Shona Gates (John) and Tianne Pringle (Lorne); great nephews Andrew Stiell (Laura), Michael Stiell (Joasia), Michael Hobson (Cecelia), David Hobson (Heidi), and Chris Hobson; great nieces Heather Carter (Davin) and Angela Hawken (Matthew); great-great nephews Liam, Luke and Will and great-great nieces Emily and Lacey.
A Memorial Service will be held Saturday, January 5, 2019 at 2:00 pm at St. Andrews Anglican Church, 4619 Lakeshore Rd, Kelowna, BC with Reverend Anne Privett officiating.  In lieu of flowers, memorial donations may be made to  the Kelowna General Hospital Foundation, www.kghfoundation.com.
If you wish to send a condolence, post photos or share a memory, please scroll down the page to the area called "Share Your Condolences."
Service
Saturday, January 5, 2019 at 2:00 pm
Location
St. Andrews Anglican Church
Service Information
Service Details
The service for STIELL, Rosemary is scheduled for Saturday, January 5, 2019 at 2:00 pm. Below you will find the map for the service location and the contact information should you have any questions.