We Remember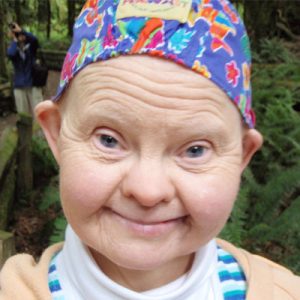 TATTERSHAW, Laura Joan
June 28, 1952 — May 19, 2018
Quietly, gently on Saturday May 19th, at her Avonlea Carehome in Kelowna, Laura slipped through the doorway to Heaven.
She was born on June 28th, 1952 in Calgary, Alberta, the daughter of Jim and Irma Tattershaw and little sister to Barbara. She was the sweetest, most good natured baby and when the doctors told her Mum and Dad that she had what is now known as Down Syndrome, the family held her close and loved her even more.
Laura grew and thrived and learned. From the time she turned 6 she went to school; first to Christine Meikle and then on to Emily Follensbee. These were schools in Calgary that brought formal education for the first time to those with developmental challenges.  She learned to read and write and how to be a confident person. She was fearless and got to be a great little master of ceremonies for all the school productions and plays. She never saw a microphone that she could resist.
Laura worked all her life. In Calgary she attended the VRRI (Vocational Rehabilitation and Research Institute) attached to the University of Calgary. She learned how to pump gas, how to take telephones apart and separate all the components for AGT (Alberta Government Telephones) She put condiment packages together for A & W ….all in the sheltered workshop at the University. She lived in a group home and took three busses to get to work. All the while, Laura was establishing life-long relationships with many people. She went to movies, went bowling every Saturday at the Silver Dollar Bowl and participated in the Special Olympics in swimming.
In 1987 Laura moved to BC to be closer to her Mum in Oliver and Sister Barb who lived in Peachland. Beaverlodge was her first home in BC and then a bit later, she moved into her own little house in downtown Oliver. Laura lived all by herself (under Mum's watchful eye) for 13 years. She worked at Buy-Low foods for several years and made sure the products on the shelves were dust free and organized. Laura was a bright spark in every one of her workplaces and made friends every day.
In 2003, Laura and her Mum came to Peachland to live with Barb in her house up Trepanier. Wes and Judy Bedford offered her a job at the Peachland Pharmacy and with Bernice as her "Boss" she continued her working life until her retirement at age 60. There was a party for sure. Laura loved parties…especially her birthday and she would start to tell everyone in about January that her birthday was coming up….in June.
Along with all her wonderful qualities, Laura could also be stubborn. Once she had an opinion it was there to stay and if you wanted to change her mind, you had better bring a lunch because it was going to take a long time!
Music was a huge part of Laura's life and her CD collection is legendary. She loved The Gaither Gospel group, Elvis, Rita McNeil, the Irish Rovers (she sang with Will Miller once in Calgary), Anne Murray (whom she met in Kelowna), all country music and the Sons of the Pioneers. She also loved Will Smith and Fresh Prince along with Little House on the Prairie.
Laura Tattershaw was a considerable individual. She contributed to the world and worked hard all her life. She would say to people she met, "I'm Downs Syndrome…..see my hands and my eyes…..that is how you can tell." She was proud to be who she was.
Laura is survived by her Mother, Irma McCall, her sister, Barbara Dionne. Barb's boys, Laura's nephews, Dan and Jamie Dionne and their families; Dan (Kathie) and their son Jake, Jamie and his children, daughter Capri (Frankie) and son Riely. Also survived by Jamie's daughter Carlie and son Jayden and their Mom Lorna. Great-Great Auntie to Capri's children Noah, Wyatt and Vayda and Riely's daughter Serenity. As well, Laura is survived by her Auntie Mildred, Auntie Phyllis, Auntie Beulah and Uncle Gerry and lots of cousins. Laura was predeceased by her Dad, Jim Tattershaw, her step-fathers, Abe Shelly and Joe McCall.
The Family would like to thank the wonderful caregivers at Avonlea House where Laura has lived for almost 4 years. These are genuinely special people who looked after Laura with gentleness and love and good humour. They truly became part of her family and we are so grateful for the dedication, kindness and generosity of spirit, with which you cared for our beloved Laura.
The Celebration for Laura will be held as follows:
Date: Thursday, June 28th, 2018
Place: The Peachland Community Centre – 4450 –  6 St, Peachland, BC
Time: Drop-In Tea Party from 3:00 PM to 6:00 PM. No formal service.
All who knew Laura and wish to join us to celebrate her life are welcome
If you wish to send a condolence, post photos or share a memory, please scroll down the page to the area called "Share Your Condolences."
Service
Thursday, June 28th, 2018
Location
The Peachland Community Centre