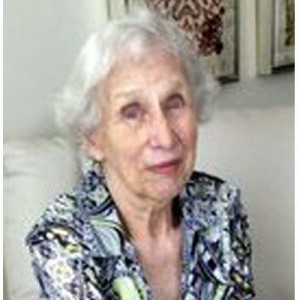 VIVEASH, BETTY ROSEMARY (Nee Jupp)
—
In loving memory of Betty Rosemary Viveash (nee Jupp) who passed away peacefully on May 10, 2017 at the age of 89. She is survived by her son David Viveash (Rosalind), daughters Christine Flynn and Elizabeth Hart (Randall); grandchildren Christopher and Alexander Viveash, Michael Flynn, Emma MacFarlane, Chantal Hart, Tara Kavanagh and Brandon Hart; great grandchildren Hannah, Ashleigh, Michaela and Liam Flynn, Jade Price, Tove and Joelie Robinson, and Tidan Kavanagh. Betty was predeceased by her husband, William ("Bill") Viveash, her parents Arthur and Rose Mae Jupp and many family members and friends.
Betty was born and raised in London, England. Like many children her age, she was evacuated for part of World War II. Returning to London towards the end of the war, she met the Canadian soldier who would become her husband and father of her children. A proud "war bride", she and Bill were married in Windsor, Ontario in April 1947. They lived together in Windsor until their separation in 1974 and subsequent divorce.
To be closer to her children and grandchildren, Betty moved to Vancouver in 1982 and then to Kelowna in 1999. Wherever she lived, she was close to her Anglican church. She had a beautiful singing voice and was an active member of church choirs in Windsor, Vancouver and Kelowna. She also spent much of her working life as a Church Secretary.
Betty was a passionate gardener and loved the arts. During her time in Windsor, she regularly travelled to Toronto to take in a play, attend an organ recital or hear a favourite chorale group. Remembering the war years, Betty stayed in close touch with War Brides Associations and the Royal Canadian Legion in all three cities. She was fiercely independent, living on her own until 2016. Following a short hospital stay in June of that year, she moved to the Sutherland Hills Rest Home. The family is deeply grateful to the loving, caring staff of Sutherland Hills for their close and constant attention to Betty's needs during her last few months.
Betty will be greatly missed by her family and friends. She was a loving mother, grandmother and great grandmother. Right until her last few days, she had the brightest blue eyes and most adorable smile. In times of pain, she called out to the mother and father who, due to war and distance, she never had the opportunity to deeply know. While her passing leaves a hole in all our hearts, we take some comfort in knowing that she and her parents are reunited in heaven.
Betty's funeral service will take place at St. Margaret's Anglican Church in Peachland at 1:00 p.m. on Wednesday, May 17, 2017. In lieu of flowers, memorial donations may be made to the Royal Canadian Legion (www.legion.ca). If you wish to send a condolence, post photos or share a memory, please scroll down the page to the area called "Share Your Condolences."