We Remember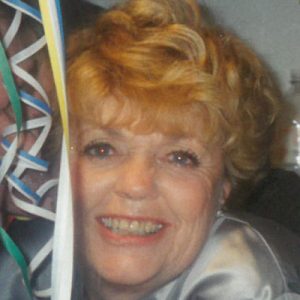 AMOS, Claudia
April 1, 1939 — August 30, 2018
Claudia Amos passed away peacefully at her home in Kelowna on August 30, 2018. Born alongside her twin sister Carolyn in a small farmhouse in New Glasgow, Nova Scotia on April 1, 1939, weighing 1.5 and two-pounds.  The doctor said she wouldn't live, boy was he wrong.
Pre-deceased by her parents Chestly and Mary Teed, siblings Greta, Louis, James, Alex, Eileen, Howard, and her twin Carolyn, Claudia leaves behind her children Jeff (Kathleen) Amos, Carolyn Amos and grandchildren Zoe and Sam Carlyle and Evan Amos.  Also mourning her loss are her "bonus" daughter/best friend Susan Abel-Lapointe and her "bonus" granddaughter Sydney/little dumpling Lewis, and, of course, Finnegan her treasured fur-baby.
Prior to moving to Kelowna, Claudia spent many years in Edmonton raising her children. Always the entrepreneur, she kept her passions alive through a driving range, a curling shop, and a clothing store. A master story and joke teller, Claudia constantly kept people laughing. Known for her love of fashion and all things fabulous, especially leather and pearls.
Claudia lived a life full of friends, family, and fun. She loved many things including: golf; bridge; martinis; dinner parties; puppies; off-side jokes; dancing; curling; entertaining; country music; and, most of all, her family and friends.
The family thanks Stella, Sidney, Bonnie, Lynda, Ghislaine, Shirley, Cheryl, Dorothy, Ellen and all the "Bridge Girls". These marvelous women were Claudia's dearly loved and treasured friends who were there for Claudia over the years through thick and thin, laughter, and tears.
As per Claudia's request there will be no funeral service. A celebration of life will take place at a later date. In the meantime, Claudia would love to know you were kicking back, pouring a glass of wine, listening to some Willy Nelson, and remembering the good times.
In lieu of flowers donations may be made to the SPCA.
If you wish to send a condolence, post photos or share a memory, please scroll down the page to the area called "Share Your Condolences."
Service
A Celebration of Life will be held at a later date.
In lieu of flowers, donations may be made to the SPCA. Link:
www.spca.bc.ca;
Service Information
Service Details
The service for AMOS, Claudia is scheduled for A Celebration of Life will be held at a later date. . Below you will find the map for the service location and the contact information should you have any questions.