We Remember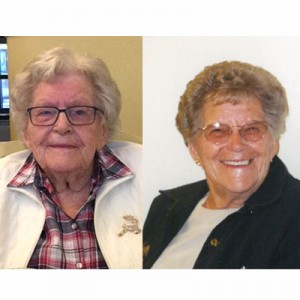 CLAYTON, JOY ISABELLE
1922 — 2018
Joy passed away peacefully at her home in Kelowna in the early morning of January 12. To Joy, being able to stay in her own suite at Missionwood Resort until she "went home" was a blessing! She loved her beautiful view and all the many friends she had in the complex.
Joy was born August 24, 1922 daughter of William and Alice Smith. She was raised in Springside, Saskatchewan and always talked of a loving and strict upbringing combined with an emphasis for always doing things well, something she always tried to instill in her children and all those she worked with.
She is survived by her children, Yvonne Pinder (Doug Bicknell) of Kelowna, David Pinder (Lee) of Strathmore and Nola Walsh (Clare) of Yorkton, 10 grandchildren and several great grandchildren, all who loved her dearly.
She was predeceased by her husbands, Stuart Pinder (1976), Ted Clayton (1990) and Henry Brown (1996), her daughter Faye Papke (2011), her parents, sister Nellie Merriman and brother Fred Smith.  Although the deaths of each spouse brought much sorrow to her life she said she was lucky to have had three good marriages.
Joy had a full and varied life. She was an excellent homemaker, a teacher, a social worker, an active volunteer in her communities and her churches, a curler, a traveler, a good friend and a hard worker, always doing everything to the best of her ability.  Wherever she went she was known for making wonderful life-long friends. But she was most proud of her role as a mother and wife and she loved her family dearly, recently talking about how blessed she had been to have such a good life and such a good family.
She chose teaching as her first career with her first teaching job at Mapleside School near Yorkton, Sask. at age 19 years.  During this time, she dated the love of her life, Stuart Pinder, a local Springside farmer and they married in 1942. Joy had never lived on a farm, but she quickly developed the skills needed and she and Stuart worked together building their farm. Joy managed the house, being a wonderful cook, baking the best bread and pies, planting a big garden, helping with the farm activities and doing all of the things needed to make sure their four children were healthy, happy and well behaved. She did this while being very active in the community and was always known to help with many different events.  She loved to curl and was always game to put on a great skit for the local bonspiels. She and Stuart had an active social life in the Clear Creek district attending local dances, playing cards, etc. She was proud of always being prepared for the many family and friends who dropped in on a Sunday afternoon in hopes of enjoying some of the excellent baking and meals she could provide.   In later years she went back to work, first teaching in Springside and then working in Yorkton at the Dept. of Social Services. She took University classes in Social Work and loved her work. With the kids grown, she and Stuart enjoyed many camping and fishing trips until tragedy struck in 1976 when Stuart suddenly passed away. Joy moved from the farm, first to Yorkton where she continued to work in Social Services and then to Saskatoon where she took a management role as Assistant Regional Director of Social Services.
While in Saskatoon she met her second husband, Ted Clayton, a farmer from Kindersley. Upon marriage to Ted in 1979 she retired from Social Services and moved to Kindersley where she again became a farm wife.  Joy took an interest in the local Home Care Agency, becoming the Board Chair and managing this agency on a volunteer basis. She became a strong advocate for Home Care and continued her advocacy serving as the provincial President of the Saskatchewan Home Care Association. After retiring from farming, Joy and Ted retired to the town of Kindersley and began to travel until Ted became ill.
Subsequent to Ted's passing she developed a friendship with Henry Brown of Saskatoon. After Joy and Henry married they moved to Yorkton to be near daughter Nola and her family. There they enjoyed helping with the grandchildren and being part of their activities. They travelled to Arizona in the winters to enjoy the warmth and made new and long lasting friendships.
Henry's passing was yet another blow to Joy. In 2002 She decided to move to Strathmore to be closer to her children Faye and David. She tried condo living and, of course, became heavily involved in the condo board. Tiring of dealing with condo board issues, Joy moved into her own house again at the young age of 82. She enjoyed this home immensely and had wonderful times with family and friends there.  Faye's passing in 2011 was one of Joy's saddest times. It was then that she made her final move to Kelowna in 2011 to be near daughter Yvonne and to enjoy the warmer weather and beautiful scenery of the Okanagan. She moved into the Missionwood Resort where she enjoyed an independent lifestyle until her passing.
She stayed interested in the lives of all her extended family, recently attending the weddings of grandchildren and great grandchildren in BC and Alberta and still hoping she might have more weddings she could attend.
She enjoyed mother nature, birds being a favorite, especially owls and hummingbirds. Times sitting on the deck at Good Spirit Lake, Newell Lake, in Hawaii and with family, watching nature brought her great pleasure!
Joy enjoyed a long healthy rewarding life and she cherished all her family and friends. It is with deep sadness that we announce her passing. She will be greatly missed!
Details of a memorial service and interment in Sask. will be made later this spring.  If you wish to send a condolence, post photos, or to share a memory, please scroll down this page to the area called "share your condolences."
Service
Details of a memorial service and interment in Sask. will be made later this spring.