We Remember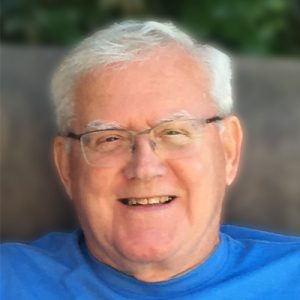 DR. TISDALE, James M.
March 8, 1936 — June 23, 2019
It is with great sadness but also a tremendous sense of gratitude that we said goodbye to Jim on Sunday, June 23 2019.  After a life well lived, he was at home overlooking the lake, with his family all around him, and listening to his favourite Mozart concerto.
Jim was born, and grew up in Niagara Falls, as the older brother of Linda, and son of Mary and Duane.  He studied Zoology at Michigan State University and went to medical school at the University of Western Ontario graduating in 1963, cum laude.  Most importantly, he met the love of his life, Bitten (fresh off the boat from Denmark) in Sarnia in 1957 where they worked in a lab together, and they married in 1960.
As soon as medical school was finished, they set off for British Columbia, choosing Kelowna as their home, playground, and place to raise their family.  Jim was an "old school" physician who made house calls and delivered his own babies and he had great compassion and dedication to his patients.  He was part of an amazing close-knit team at Group One Medical.
He and Bitten shared a love of nature and a passion for outdoors.  He was an avid fly fisherman (this was truly an artform for him), paddler, hiker, runner, hunter, skier (with style and grace both in champagne powder and on Nordic trails), and in the later years a keen birder.  He was also a student of the heavens – astronomy was Jim's religion and he continued his quest to study the universe and share his knowledge until his last day.  He helped found the Kelowna chapter of the Royal Astronomical Society of Canada and was instrumental in establishing the Okanagan Observatory off the Big White Road.
But above all Jim loved his family: His "child bride" Bitten with whom he shared over six decades of love, adventure and partnership.  His three daughters, Kirsten (Scott), Sarah (Ian), and Jenn (Phill), and seven grandchildren (Jake, Theo, Rachel, Grace, Fraser-JAMES, Jacob, and Julian), nephews and nieces in Ontario and Denmark and many grand dogs.  There are many others (you know who you are) who are like family and he loved you all.
Jim was so wise and kind, but for all who knew him his intelligent wit and wicked sense of humour were probably his defining characteristics.  Many of us were on the receiving end of his gentle humour and practical jokes!  Until the last few years, Jim enjoyed a vibrant healthy life.  We are so grateful for the care and compassion of his medical team, especially Dr. Dan Obedkoff and Dr. Richard Hooper.
We will have a Celebration of Life for Jim at Saturday, July 27, 2019 at 1:00 pm at Springfield Funeral Home, 2020 Springfield Road, Kelowna, BC. In lieu of flowers, if you wish, donations would be gratefully received for the KGH Foundation, www.kghfoundation.com, or the Royal Astronomical Society of Canada, Okanagan Centre.  Cheques would be made out to:  RASCOC, 285 Terai Court, Kelowna V1X 5X6
May the skies be clear, the powder deep and the fish plentiful. We love you.
If you wish to send a condolence, post photos or share a memory, please scroll down the page to the area called "Condolences."
THIS SERVICE WILL BE BROADCAST/LIVESTREAMED ON SATURDAY JULY 27, 2019 AT 1:00 PM

Service
Saturday, July 27, 2019 at 1:00 pm
Location
Springfield Funeral Home
The Royal Astronomical Society of Canada, Okanagan Centre. Cheques would be made out to: RASCOC, 285 Terai Court, Kelowna V1X 5X6 or KGH Foundation. Link:
www.kghfoundation.com
Service Information
Service Details
The service for DR. TISDALE, James M. is scheduled for Saturday, July 27, 2019 at 1:00 pm . Below you will find the map for the service location and the contact information should you have any questions.