We Remember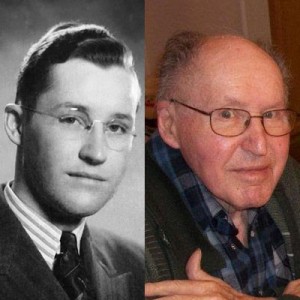 LINK, Herbert
October 18, 1921 — July 3, 2017
He was a farmer, a father and husband and a man of faith. Herbert Richard Link passed away July 3, 2017, at Cottonwoods Care Centre in Kelowna, B.C.
Born October 18, 1921 in Camrose, Alberta to German immigrant parents, Herbert enjoyed a long-life rich in joy and spared from regret. The second youngest of a family that included four boys and two girls, he grew up on a farm outside of Olds, Alberta. His experience on a family farm, especially during the tough years of the Depression, and the practical lessons it taught shaped him and stayed with him his entire life. Following service in the Canadian Army during the Second World War and education at Edmonton's Christian Training Institute (where the students helped with chores like peeling potatoes), he moved in 1948 with his retiring parents to Kelowna. He worked at W.A.C. Bennett's hardware store, attended Herbert's Business College and became a bookkeeper.
In 1950, he met his future wife Melita while he and a friend were driving around Kelowna "looking for girls." Their first date was to go for ice cream. They married the year after and were never apart. Together they owned and operated the Plaza Motel in Kelowna before Herbert took a job with the taxation branch of the federal government. But he retained the independent spirit of the farmer and retired from the government to go into business as a bookkeeper and tax consultant. It was a job and lifestyle that he was proud of with its freedom, responsibility and satisfaction in helping clients.
Family was essential to Herbert with family trips, camping, anniversaries, birthdays, beloved pets and large reunions of the extended Link clan. He and Melita built three homes and created large, productive gardens. Faith was the other foundation of his life as a long-time member of Trinity Baptist Church in Kelowna. He served for four decades in the male chorus and for years helped count the church offerings each Monday. A trip with fellow counters to the coffee shop always followed, an example of his gregarious personality. In later years, he was a daily fixture at his local Tim Hortons weighing in on the issues of the time. He kept up with the news, followed politics as a past supporter and recruiter for the Social Credit Party, read voraciously and enjoyed word jumbles.
He is survived by his wife of 66 years Melita, three sons Rod (Dina), Mark and Barry, grandchildren Madeleine, Hannah and Kyle and many nieces and nephews. Despite serious heart trouble, he was the last of his siblings to pass. The example he set for his family lives on. "Surely your goodness and love will follow me all the days of my life, and I dwell in the house of the LORD forever." (Psalm 23:6)
A memorial service for Herbert will be held Friday, July 21, 1:00 pm at Springfield Funeral Home, 2020 Springfield Rd, Kelowna, BC and will be followed by a reception. If you wish to send a condolence, post photos or share a memory, please scroll down the page to the area called "Share Your Condolences."
Service: Friday, July 21, 1:00 pm
Location: Springfield Funeral Home