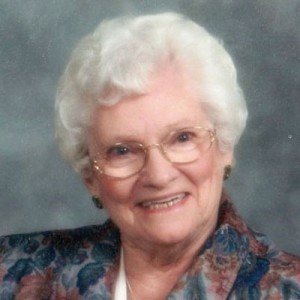 STEVENS, Viola Rose
—
Viola went to be with the Lord on Sunday, August 13, 2017 at the age of 94. She is survived by her four daughters: Carol Danyluk (John) of Edmonton, AB, Linda Young (James) of Salmon Arm, BC, Brenda Smith of Grande Prairie, AB, Betty-Anne Rennie (Bill) of St. Albert, AB; son Lorne Stevens of Airdrie, AB; nine grandchildren: Erinn (Richard), Tara, Louise (Bill), Shandra, Blayne, B.J., Megan, Kristen, Mac; six great grandchildren and one brother Clarence Smith (Blanche) of Mallaig, AB.
Viola was born May 4, 1923 in Wilkie, Saskatchewan. In 1932, at the age of seven, Viola's family moved to the farming community of Boscombe, AB. She married James Stevens in 1942 and together they farmed in the area until 1958, when they moved to Elk Point. Viola worked as a nursing aide at the Elk Point Hospital, where she was known for her care and patience in looking after the elderly.
The family moved again in 1966 to High Level, where James had taken a position as the town foreman. Viola worked at a number of jobs until the hospital opened in 1970 and she was able to return to what she loved best, nursing. In 1980, James and Viola retired to Westbank, BC. She worked hard to provide for her family. She loved to bake, quilt and crochet. Viola loved flowers and took great pleasure in looking after her plants and flower beds.
Viola loved the Lord and at the age of eight years, she committed her heart to Him. Viola had no fear of death and looked forward to going home to be with her Heavenly Father. To her family she said, "Don't weep for me, but rejoice! I know my Lord and trust in Him always." Her prayer was that we would all be happy until we meet again.
A Funeral Service will be held on Thursday, August 17th at 1:00 pm at the Springfield Funeral Home, 2020 Springfield Road, Kelowna, BC, with interment to follow in the Westbank Cemetery. In lieu of flowers, memorial donations may be made to the Westbank Community Food Bank, 2545 Churchill Road, West Kelowna, BC, V4T 2B4. If you wish to send a condolence, post photos, or to share a memory, please scroll down this page to the area called "share your condolences."