We Remember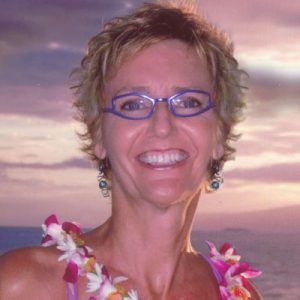 SULLIVAN, Ursula "Uschi" Maria (nee Stollbert)
—
Ursula passed peacefully on July 14, 2018 in Kelowna. Survived by her loving husband John; sons Jordan and Casey both of Kelowna; brother Frank (Anne) Stollbert of Calgary; sister-in-law Mary (Doug) Bullock; nieces and nephews Paul (Chrystal), Richard (Tasha), Mark (Amanda), Lisa (Greg), Taylor Stollbert and Alexa Stollbert.  Predeceased by her loving mother Thea Stollbert (Richard) and father Alois Stollbert.
Ursula grew up in Calgary and attended the Alberta College of Art. She learned how to bake and sew from her mother and finishing carpentry from her father.  Ursula was very artistic in all things she touched—photography, painting, ceramics and even making her own soaps.  She spent time volunteering with the Ogopogo Rotary and the Kelowna Golf and Country Club.  John and Ursula loved to travel—extensively in Europe, particularly to Southern Germany where her parents were from and, when not traveling, she could be found hiking or gardening.  Ursula was entrepreneurial: she started a sign business that eventually became the family business in Calgary and Kelowna.  By far, her biggest accomplishment was her dear boys Jordan and Casey together with her soulmate John.  She was so proud of her sons' achievements and the kind and respectful young men they have become.  John was her beacon, her strength and the sparkle in her eye.  She knew she could count on "The Bitches" to help her through and share the good and bad times.  Family was everything to her and everyone knew there was always an open door and inviting arms waiting.
Celebration of Life will be held on July 28, 2018 at 1:00 pm at 2850 Dunster Road, Kelowna, BC.   Please text your intentions to attend to 1-403-660-9797.  In lieu of flowers, donations may be made Kelowna General Hospital Foundation – JoeAnna's House, 2268 Pandosy Street, Kelowna, BC V1Y 1T2.
If you wish to send a condolence, post photos, or to share a memory, please scroll down this page to the area called "share your condolences."
Service
July 28, 2018 at 1:00 pm
Service Information
Service Details
The service for SULLIVAN, Ursula "Uschi" Maria (nee Stollbert) is scheduled for July 28, 2018 at 1:00 pm . Below you will find the map for the service location and the contact information should you have any questions.