We Remember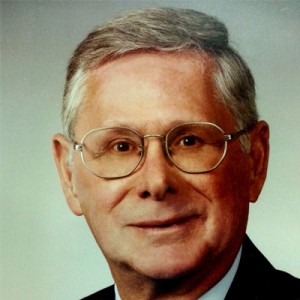 BUCKLEY, Dr. Eric D. J.
—
Dr. Eric D.J. Buckley (B.Sc., M. Sc., Ph.D.)
February 7, 1936 – February 21, 2014
  Born in Rossland, BC, predeceased by his parents, Percy (Tom) and Brigitte Buckley, his eldest brother Robert (Bob), youngest brother, Chucky and infant son, Gilbert George. He is survived by his beloved wife of 53 years, Antonia (Tonny), his pride and joy, Ingrid Trouw (Jake), Christopher, Timothy and Daniel, his most treasured grandchildren Erika, Gerrit; Jeremy, Daniel, Faith, and their sister Nikki; Amanda, Jaina, Ava and Leah and their brother Braydan. Eric passed away peacefully, with family at his side, in the gentle care of the staff at Brookhaven, after suffering from Alzheimer's disease. He also leaves behind siblings and their families, Wilma (Bob), George (Marilyn), Leonard, Cecilia, Mary (Syl), Paul (Theresa), Tom (Sue), and Imelda all of whom he loved and treasured.
Eric graduated high school in Trail, BC and followed through to university earning his B. Sc. in Mathematics, Law and Philosophy at Gonzaga University in Spokane; a M.Sc. in Pure Mathematics and Ph.D. in Applied Mathematics at the University of Alberta. He began his Teaching career at Notre Dame University in Nelson in 1963 and after graduating with his Doctorate, settled his family in Kelowna, BC in 1971 at Okanagan College and retired from Okanagan University College in 2001 after a thirty-year career as Professor of Mathematics and Associate Dean of Science.
Eric filled his life with the philosophy of caring, improving and helping in the communities he treasured, starting with his love of music with directing at the early age of 23 in Nelson, through his children's choir at Pius X Church, St. Charles Garnier choir, Director of Athletes for the BC Summer Games in 1994, and finishing as the director of his Knights of Columbus chorus in Kelowna.
He also served at school trustee and chair of School District No. 23 from 1977 to 2005 as well as president of the BSCTA during part of this term.
He lived a busy and fulfilled life in his down time spent in his garden where many remember his generosity with his wonderful home grown fruits and vegetables, especially his peaches. Bridge, fishing and golf with friends and family were also pleasures well spent.
He was always an active member of his Catholic Church communities wherever they were, was always there to guide the students he taught, be mentor to family and friends and most of all welcoming to the wonderful family times as all gathered at his home during the summer and their favourite family hang-out at Gyro beach. We can't forget to mention the "tickle-hugs" and giggles shared with his grandchildren.
He enjoyed life to the fullest, lived his faith and accepted what Alzheimer's would do and trusted those he loved to care for him, right up to the end. Our heartfelt thanks go out to Eric's sister, Cecilia, for her dedication to him during his illness.
In lieu of flowers, donations can be made to the Alzheimer's Society of BC. 
Prayer Service will be held on Friday, February 28, 2014 at 7 pm at St. Charles Garnier Parish, 3645 Benvoulin Road, followed by Mass of Christian Burial on Saturday, March 1, 2014 at 10:30 am with Father Wayne Pfliger officiating.
If you wish to send a condolence, post photos or share a memory, please scroll down the page to the area called "Share Your Condolences."
Prayer Service
Friday, February 28, 2014 at 7 pm
Service
Saturday, March 1, 2014 at 10:30 am
Location
St. Charles Garnier Parish
Alzheimer's Society of BC
Service Information
Service Details
The prayer service for BUCKLEY, Dr. Eric D. J. is scheduled for Friday, February 28, 2014 at 7 pm at located at 3645 Benvoulin Road, Kelowna, BC.
The service for BUCKLEY, Dr. Eric D. J. is scheduled for Saturday, March 1, 2014 at 10:30 am . Below you will find the map for the service location and the contact information should you have any questions.