We Remember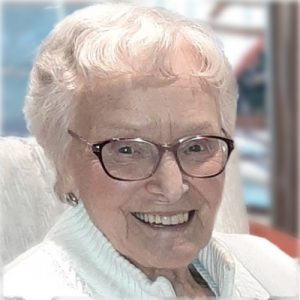 BYER, Beryl Irene
December 19, 1928 — July 3, 2021
Born in Dauphin, MB on December 19, 1928, Beryl passed away peacefully in Kelowna, BC on July 3, 2021, with many of her family at her side.
Predeceased by her first husband Wilbert Edwards, second husband Cecil Byer and siblings Donald, Thelma, Russell, Lorna, Gladys, Wilma, Phyllis, Maxine, Josephine and grandson Brad, Beryl is survived by her children and extended family: Carol Nielsen (Bent) of Vancouver BC, Dan Edwards (Bonnie) of Coldstream, BC, Jane Baehr (Brian) of Kelowna, BC, Janet Hertz (Kevin) of Kelowna, BC, Kim Byer of Lake Country, BC, Marlene Hendriks (John) of Oliver, BC, Michael Edwards (Leanne) of Cochrane, AB, Robert Byer (Shannon) of Oliver, BC, Shirley Petrie (Scott) of Rock Creek, BC, Wendie Radies (Wayne) of Vernon, BC, and Willard Edwards (Ethna) of Hannah, AB; by her grandchildren: Sheri, Tyler, Janine, Jeff, Jennifer, Karli, Jesse, Carol Anne, Brenda, Justin, Shane, Luwanda, Denise, Gordon, Sydney, Drew, Kendra, Brooklynn, Candace, Christopher and Amber; and by her greatgrandchildren: Benjamin, Emma, Gezina, Abigail, Kiera, Ellie, Preston, Garret, Claire, Kaylee, Dylan, Taylor, Nichlas, Lincoln, Addison, Nash, Tyler, Evan, Hannah, Maja, Jacob, Sisilie, Cas, Halen, Rory, Zoe, Mya, Seth and Kastor.
Beryl met and married Wilbert and started a family before moving to Osoyoos, BC in 1958.  Wilbert died in 1964. She married Cecil in 1966 and moved to Oliver expanding their blended family that eventually reached 11 in number. Cecil passed away in December 2000. She moved to Kelowna in 2011, where she was closer to Janet, Jane, and Wendie, and very much enjoyed living at Lakeshore Place meeting many new friends.
A strong woman who was kind, caring and generous, Beryl will be remembered fondly by her family and all who knew her.
A Celebration of Life will be held later in the summer.
Donations in her memory can be made to the Kelowna Gospel Mission.
If you wish to send a condolence, post photos, or share a memory, please scroll down the page to the area called "Condolences".