We Remember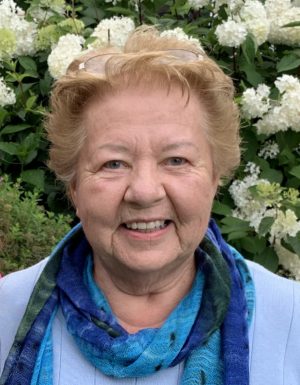 NAHIRNEY, Denise
March 16, 1941 — December 26, 2019
A life well lived and a life well loved.  Denise Cecile Nahirney was a trailblazer and a pioneer of women.  She was a private pilot, a businesswoman and community leader.  She was recognized by the City of Kelowna as Woman of the Year and with the Kelowna Arts Council Award.  Most importantly she was a loving wife, mother, grandmother, sister, and loyal friend.
Denise's home and heart were always open for others.  She was, throughout her lifetime, a leader in the community, a connector of people, a giver to others, a builder of family and home.
Denise was born on March 16, 1941, in Anaheim, Saskatchewan where her father ran the General Store.  She excelled in school, accelerated a grade and attended Bruno St. Ursula's Academy Residential Girls School.  She moved to Saskatoon where she attended the University of Saskatchewan, graduating with a Bachelor's degree in Social Work and working around the province in her field.  When Bill met Denise at University, he knew she was the girl of his dreams.  They married in 1962 and lived in Wisconsin, Toronto, and Winnipeg before settling in Kelowna in 1969.  Their first child, Lois arrived in 1963, followed by Douglas in 1966, Patrick in 1967 and Lynnette in 1971.  Denise's family was her pride and joy.
While in Winnipeg, Denise joined Bill in earning her private pilot's license and was one of the first women in that city and the country to earn her wings.  Denise and Bill flew for business and pleasure across North America in their different planes over the ensuing decades.  Denise worked with Bill in their companies Apex Engineering, Apex Helicopters, Alpha Marketing, and Truckers First. With her love of local art, she later went on to manage the Kelowna Art Gallery.  As an orchard and vineyard owner in East Kelowna, she was instrumental in the founding and managing of the BC Orchard Industry Museum. Denise and Bill did a sojourn in Brandon where Denise applied her social work profession by working with the Queen's Court Bench of Manitoba delivering a first offenders program that resulted in close to 100% non-re-offense.  In their next move to Fort McMurray, Denise was well-loved as the coordinator for the Senior's Community Centre.  In their return to Kelowna, Denise was active with Bill in developing a health-focused business right to her last days.  She also worked innumerable volunteer jobs throughout her lifetime.
Denise joined the University Women's Club (CFUW) in the 1980's and was an active member over decades, acting as Kelowna President and the Western Canada Regional Vice President, establishing a new CFUW club in Fort McMurray and representing Kelowna at the most recent 100th anniversary of CFUW in Winnipeg in June 2019.  She was a founding member of the Ogopogo Rotary Club. Denise was also active with the John Howard Society, Elizabeth Fry Society, Kelowna Arts Council, Okanagan Heritage Society, SPCA, Probus, East Kelowna Irrigation District, Ex-Service Women's Royal Canadian Legion Branch #215, Forester's, Book Club and many more.  Her favourite hobbies were reading, crafts and playing bridge with her friends. She loved music, art, and animals.  She was well-loved for her humorous, insightful and thoughtful emails and widespread internet family and friend communications.
Among some of her life highlights, Denise traveled behind the iron curtain to Russia in 1976, climbed Machu Picchu in Peru in 1980 where she had a mystical experience, explored her family's homeland of Germany, visited her kids in England, Yellowknife, Hawaii, Singapore and around the world, rode an elephant in Cambodia, volunteered at a girls camp in Vietnam, and had a close encounter with Ogopogo in 1996 after which she became a member of the cryptozoology society and was quoted in several books.
Denise passed peacefully on Boxing Day December 26th, 2019, in our arms, in her home, looking over the beautiful Okanagan Valley.  She experienced complications from cancer. She leaves her adoring husband of 57+ years, William (Bill), and children Dr. Lois Nahirney of Vancouver (Tom Dielschneider), Major Douglas Nahirney of Ottawa (Joanna Nolan), Dr. Patrick Nahirney of Victoria (Elizabeth Hansen) and Major Lynnette MacKay of Alexandria, Virginia (MWO (ret'd) Justin MacKay), grandchildren Natalie, Levi, Kailyn, Cairns and Blake, siblings Elwood, Charles and Ramona Aschenbrenner, and in-laws Mary, Peter, Leela, Annie, Helen, Leroy, Barb, and Gary, along with many wonderful nieces, nephews, aunts, uncles, and cousins.
Denise was a special lady. She made a difference in so many people's lives.  She was always ready to help others with an open and loving heart.  She loved to smile and laugh and make others happy.  We know God is smiling with her.  She will forever be in our hearts, guiding us from above.
She lived by the messages in the song Live Fast, Love Hard, Die Young, and Leave a Beautiful Memory (Faron Young, 1957).
The Celebration of Life will be held on Saturday, January 11th, 2020 at 1:00 pm at the Springfield Funeral Home, 2020 Springfield Road in Kelowna.
In lieu of flowers, gifts can be made to the Canadian Federation of University Women (CFUW) at https://cfuwcharitabletrust.ca/canadahelps-org-donation-form/ General Fund with in memory of Denise Nahirney, for a bursary for a young woman studying health care or business to be awarded in Denise's name.
Thank you to all for your love and friendship to Denise.  She adored her friends and family.  We will all miss her.
If you wish to send a condolence, post photos or share a memory, please scroll down the page to the area called "Condolences".
Service
1:00 PM - Saturday, January 11, 2019
Location
Springfield Funeral Home
Service Information
Service Details
The service for NAHIRNEY, Denise is scheduled for 1:00 PM - Saturday, January 11, 2019. Below you will find the map for the service location and the contact information should you have any questions.