We Remember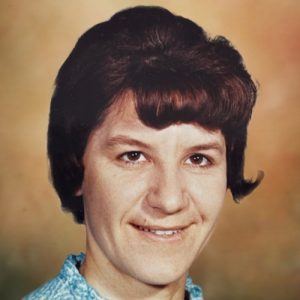 DOEKSEN, Helena
April 14, 1933 — February 21, 2023
Helena Doeksen went to be with the Lord on February 21, 2023, in her 90th year.  She is survived by her loving husband of 55 years, Gerard (Gerry); their two sons, Corwin and Carlin; three grandchildren, Alexandra (Nathan) Dennis, Brady Doeksen, and Garrett Doeksen; great-grandchildren Charlotte, Nixon, and Briggs; her sisters Frieda Epp, Katherine Dyck, and brother-in-law Alvin Walters; as well as numerous nieces and nephews.  She was predeceased by her son Benjamin; her parents, John and Marie Epp; and siblings John, Marie, Tiena, David, Jacob, Anne, and Susie.
Gerry and Helena's love story began while she was visiting her sister Anne in Trail, BC. Helena showed interest in teaching Sunday School at Trail Alliance Church. Coincidentally, Gerry was volunteering as the church's Sunday School Superintendant.  Needless to say, Helena got the job. The two fell in love and created a beautiful life together in Trail, BC. Helena was offered a teaching position with Trail Public Schools with which she taught for over 20 years. Later they relocated to Kelowna, BC in their retirement years.
Helena loved Jesus, children, and teaching. These passions could be found in all of her life's pursuits. Her favourite bible verse, John 3:16, signifies mom's everlasting hope.
"For God so loved the world, that He gave His only begotten Son, that whosoever believeth in Him should not perish, but have everlasting life."
Helena will be dearly missed as a loving wife, mom, grandma, great-grandma, sister, and friend to many.
In lieu of flowers, donations may be made to the Global Advance Fund – Alliance Canada.
A Funeral Service will be held on Friday, March 3, 2023, at 11:00 AM, at Mission Creek Alliance church (2091 Springfield Rd, Kelowna, BC), with Pastor Keith Whitaker officiating. If you are unable to attend in person, please join the family online by Livestream at the time of the service. When the link for Livestream is available it will be available below.
If you wish to send a condolence, post photos, or share a memory, please scroll down the page to the area called "Condolences".
Service
Friday, March 3, 2023, at 11:00 AM
Location
Mission Creek Alliance Church (2091 Springfield Rd, Kelowna, BC)
Share with Others:
Service Information
Service Details
The service for DOEKSEN, Helena is scheduled for Friday, March 3, 2023, at 11:00 AM. Below you will find the map for the service location and the contact information should you have any questions.