We Remember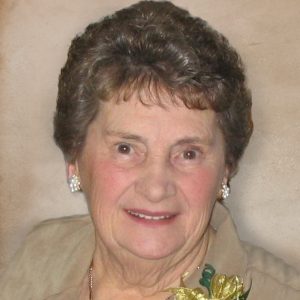 DONHAUSER, Dorothy
April 12, 1929 — June 13, 2020
Dorothy Donhauser passed away peacefully on June 13, 2020, at the age of 91.
She was born on April 12, 1929, in Romania and immigrated with her parents to Rutland, BC in 1930.  She is survived by her loving husband, Fred Donhauser. They married on November 14, 1955, in St. Theresa's Catholic Church in Rutland and would have celebrated their 65th wedding anniversary later this year.  They settled in Winfield after purchasing the orchard in 1961 where they happily spent most of their lives farming.  Dorothy loved to be outside in the orchard thinning and picking alongside Fred.  She loved her vegetable garden and did a lot of preserving.  She baked with whatever fruit was in season and was such a wonderful homemaker.
She will be lovingly remembered by her 4 daughters: Karen Van der Gulik (Ted) of Abbotsford, Fay Betuzzi (Kevin) of Kelowna, Heather Schneider (Rod) of Cowichan Bay, and Jennifer Goett (Bruce) of Kelowna.  She is also survived by 3 younger siblings Toni Horn, Ann Zvonarich, and Kaspar Moser (Jo-Anne); 13 grandchildren and 21 great-grandchildren.  She was predeceased by her parents Roy and Mary Moser, and her sister Theresa Moser.
Dorothy will be greatly missed by all her family and friends.
Due to the current Covid-19 restrictions, a private Funeral Service will be held to honour Dorothy, however, the family would like to invite all who would like to pay their respects to join by Livestream (See Below).
If you wish to send a condolence, post photos, or share a memory, please scroll down the page to the area called "Condolences".
THIS SERVICE WILL BE LIVE STREAMED/BROADCAST SATURDAY, JUNE 20, 2020, AT 10:30 AM