We Remember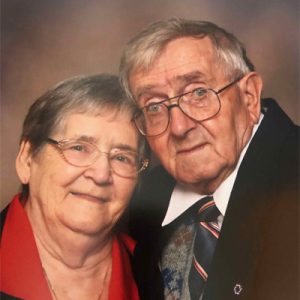 FAST, Nellie & David
—
On March 20, 2020, our dear mother, Nellie Fast, was called home by her Lord and Saviour. She passed peacefully at the Kelowna General Hospital.  Having shared 67 years of marriage together, she called our father, David Fast, to join her two days later. Dad died March 22, 2020 at the Sun Point Care Facility. We are comforted to know they are now together.
Their memory will be cherished by their surviving family: their two daughters Carol (Jerald) Grassmick of Kelowna, BC and Sandy (Dennis) Williams of Weslock, AB; their five grandchildren Jalon (Sarah) Grassmick, Shawn (tara) Williams, Jannel (John) Hayes, Jeana Grassmick, and Ryan (Aisha) Williams; and their four great-grandchildren Aislyn Williams, Jerid Hayes, Karsen Williams, and Lyndie Williams; Nellie's three remaining siblings and their families; and David's three sisters and their families.
There was a private family gathering and service on Wednesday, March 25, 2020 in the Chapel of Springfield Funeral Home. The service was "live streamed" and recorded for those family and friends unable to attend, it can be viewed at www.springfieldfuneralhome.com where you can also leave a story or photo for the family.  If desired, donations can be made in their memory to either the Kelowna Gospel Mission, kelownagospelmission.ca, or the Boys & Girls Clubs of the Okanagan, www.boysandgirlsclubs.ca.
If you wish to send a condolence, post photos or share a memory, please scroll down the page to the area called "Condolences".
THIS SERVICE WILL BE LIVE STREAMED/BROADCAST  ON  WEDNESDAY, MARCH 25, 2020 AT 4:00 PM (PDT).
Service
Wednesday, March 25, 2020
Location
Springfield Funeral Home
Service Information
Service Details
The service for FAST, Nellie & David is scheduled for Wednesday, March 25, 2020 . Below you will find the map for the service location and the contact information should you have any questions.