We Remember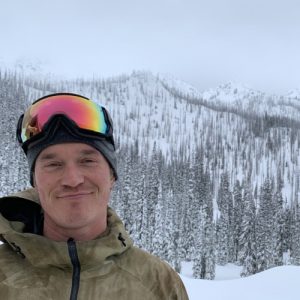 FLETCHER, Ryan
November 30, 1979 — December 26, 2021
Ryan brightened our world with his beautiful and vibrant presence, and his passing leaves the world a darker place.
Ryan's spirit was released into the mountains on December 26, 2021. He leaves behind his lover and his shadow, Grace; his mother Donna; sister Michelle (Michi); niece Mikaela; Uncle Spencer and Aunt Emma Lou; cousins Travis, Cory and Fraser; the in-laws, Ian, Pat and Jams, as well as a community of countless friends. Ryan is predeceased by his father Frank David Fletcher, and his brother Todd David Fletcher.
Ryan grew up in Kelowna surrounded by family and friends, loving the lake and the hills of the Okanagan Valley. Ryan cherished his family and his friends and was always eager to share his adventures with them. As he grew, so did his insatiable lust for life. He became an avid traveler, visiting China as a child and then as an adult, spending long periods of time in Mexico and Central America. He was called to the ocean, and his passion for surfing was surpassed only by his passion for the mountains. Ryan began snowboarding when he was eleven, falling more and more in love with it over the next three decades. He often said the mountains are where he felt happiest. He loved BC and was so grateful to spend time shredding in the Coast, Monashee, Selkirk, Purcell and Rockies ranges and exploring everywhere in between. Ryan "Billy Goat" Fletcher was always the stoke master, the trip planner, the weather watcher, the first one up, the last one in, the one pushing and inspiring us all to keep going, to go farther, longer, further.
Ryan was incredibly smart and skilled, an electrician, an elevator mechanic, and a prolific do-it-yourselfer. His infectious smile and laugh, his calm and chill demeanor, his easy mentality and his soft soul, taught us all that life can be simpler than we make it, if you just slow down, take 'er easy and appreciate the simple things.
Ryan's Celebration of Life is on Monday, January 17, 2022, at 4:00 pm at Springfield Funeral Home, 2020 Springfield Road, Kelowna, BC.
Please feel free to wear bright colours, or wear green, yellow and red, one of Ry's favourite colour combos.
This is an indoor event requiring masks. Tears will flow, noses will be blown…please prepare and bring extra masks.
If unable to attend in person, or unable to comply with safety measures, Ryan's Celebration of Life will be live-streamed (see details below), and a recording will be available to view thereafter.
In lieu of flowers, donations can be made to Lifestyle Equity Society, or CRIS Adaptive Adventures. Both of these organizations were a tremendous benefit to Ryan's brother Todd.
If you wish to send a condolence, post photos, or share a memory, please scroll down the page to the area called "Condolences".
Service
Monday, January 17, 2022, at 4:00 pm
Location
Springfield Funeral Home, 2020 Springfield Road, Kelowna, BC.
Service Information
Service Details
The service for FLETCHER, Ryan is scheduled for Monday, January 17, 2022, at 4:00 pm. Below you will find the map for the service location and the contact information should you have any questions.