We Remember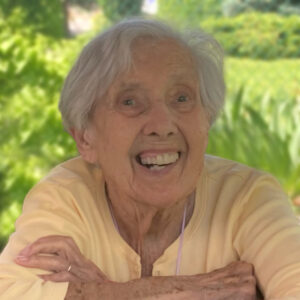 GREEN, Lesley
February 28, 1928 — August 30, 2023
Lesley Green, an indomitable and tenacious spirit who overcame the loss of a young son and husband at a relatively early age to raise two sons alone and emigrate from England to Canada at age 50, has died.
The native of London was 95 years old.
Lesley, a Kelowna resident since 2013, had suffered from declining health for the past few years. She died in the early hours of Aug. 30 in palliative care.
She bravely maintained her sense of humour and trademark smile until the end, relishing back and shoulder rubs.
"It's agony, this dying" Lesley quipped a few days before she died.
At her request, there will be no memorial service.
Lesley spent most of her working life in Canada as a secretary in the oil and gas industry in Calgary, before moving to California in retirement.
It was there that the mother of four, who always loved children, developed a second career as a nanny in Santa Barbara, a city she embraced for its Mediterranean climate and gorgeous ocean views.
Lesley, an inveterate and independent traveller, toured Australia, New Zealand and much of Europe by herself.
Lesley, who also loved swimming in warm ocean water, spent several years after moving back to Canada as a snowbird, wintering annually in the Central American country of Belize.
She was born Feb. 28, 1928 in the London suburb of Wood Green, to "Wally" and Bertha Dennett.
She trained in shorthand and typing, but met a handsome young merchant seaman, named John Albert Green.
During World War II, the pair dated. On their first, they saw the movie "Blues in the Night", her mother and older sister walking behind the couple on the way to the cinema.
They married in 1948.
The couple initially had two children: Sharon and Robert.
Robert died two days before Christmas in 1961 in a car accident with his father at the wheel on a rainy evening after watching a football game in London. He was nine years old.
The couple decided to have more children.
Nicholas was born 1962. Daniel followed in 1964.
Their father, who had suffered a first heart attack in 1968, died four years later in 1972.
The family emigrated to Canada in 1977, crossing the country on a Greyhound bus to reach Calgary, where her daughter lived.
Lesley is survived by son and daughter-in-law Nick and Kayla of Kelowna; sister Beryl of Ottawa, who celebrated her 100th birthday in May; grandchildren Robert Ouellette of Winnipeg and Justin Ouellette of Red Deer, Alta.; and numerous great-grandchildren.
Lesley was pre-deceased by her husband, Johnny; sons, Robert and Daniel, and daughter, Sharon.
The family would like to express our deepest gratitude to the palliative team and continuous care team at Interior Health and the staff at Hawthorn ParkRetirement Centre, whose care of Mum during the final weeks was exceptional.