We Remember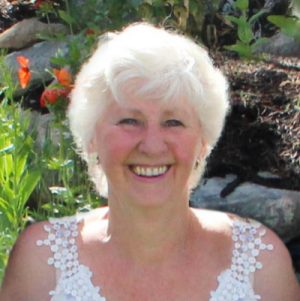 HINCHEY, Marilyn (née Sladen)
January 1, 1970 — January 1, 1970
Marilyn Anne Hinchey, 81, passed away peacefully on March 14, 2020. Marilyn was born February 8, 1939 in Rossland B.C. At age 6, she moved to Kelowna where she married the love of her life in 1958, started a family, and embarked on an amazing journey. In 1973, they would start a new adventure and moved them all North to Yellowknife, NT. BC would pull her back to her roots in 2003 when she returned to the Okanagan to enjoy their new summer home. She and Grant celebrated their 60th Golden Wedding Anniversary with all their family and many friends at their Lake Country home in 2018. It was a wonderful party and just the kind of get together that Marilyn enjoyed most. Family, friends, new and old, love, laughter, joy, hugs, music, and some crazy dancing till the wee hours made the day perfect. Every one of her children, grandchildren and great-grandchildren were in attendance which was her fondest wish.
Family was the most important aspect of Marilyn's life, and that family included many friends she met along the way. She treasured being a mother, a grandma and a great-grandma. She loved to cook, bake, share her garden, her pin collection, tell wonderful stories, sew, and anything else she could think of that would bring a smile to someone's face. If you were really special, she would share her fairy garden with you too! Her best dish would depend on who you asked but I think it may be a toss-up between two of her favorite recipes passed down from her mother, a raspberry glace pie and strawberry shortcake. Both delicious, and there was always a fight for who got the last piece.
Marilyn cared for everyone she met. She was kind, honest and fiercely loyal. She worked all her life and only seemed to work harder and be busier in retirement. I guess this happens when you have such a big family. She thrived on having a house full of people and she fit as many beds into the house, studio, workshop, and sunroom that she could. If she ran out of room, she was known to pitch a tent too. She and Grant never ran out of room in their house or in their hearts for those around them.
Marilyn had been focused on being a homemaker and a mother. In February 1973, she and Grant made a trip north to explore some business opportunities and Marilyn embarked on another new adventure. She had never experienced a real northern winter. They flew to Yellowknife. When they arrived, it was -43 but she said it was absolutely beautiful, the snow was sparkling, and the sun was shining. The decision to move was made and in July they drove North, a trip that was not without challenges. She took over setting up the accounting office and arranged for computer services with a southern service bureau. The following year they decided to setup a timesharing computer center named Nor Dat Computer Services. The founder and president of Digital Equipment Inc. in Boston, along with the Canadian President came up to see Nor Dat and the new computer center. They urged Marilyn to become the new manager and come to Boston and be trained at the Digital Equipment University. Marilyn left her family in Yellowknife and headed for Boston.
Computers were not an area that Marilyn ever had any interest in. She was considered the "Old Lady" of the industry at 35. The rest of the students were under 25, and mostly male. She put in a lot of long 17-hour days to complete her training and certifications, she and returned to Yellowknife to take over the management of the timesharing service bureau. Key clients of the services were Cominco, Department of National Defence, Worker's Compensation Board, City of Yellowknife, Ward Air and numerous other northern businesses. Nor Dat adapted to changes in the industry and eventually became a reseller of IT equipment and related services. Her sons joined the business opening The Computer Centre. Several years later, it became CompuCentre and Microage. The business expanded into additional locations in Whitehorse and Edmonton. The business grew and evolved, but the heart of the business was always Marilyn. She was very active in the community and always ready to take on new challenges within our business environment, our family and the community. She was a stellar example of an individual always ready to help others, but her family and her extended IT family were always her primary focus.
While living in the north, Marilyn rekindled her love of music and joined the city band. She travelled throughout the north and her adventures provided many stories for her to entertain her grandchildren with. Marilyn had a great sense of humour and loved a good joke. Those of you who know her family will realize many have inherited this trait.
Marilyn appreciated all the messages, videos and outpouring of love she received during her time in the hospital. She told us she could feel the love and for that we are all truly thankful.
Marilyn is survived by her loving husband Grant; her brothers and their wives Gord and Katie Sladen and Vic and Linda Sladen; and her sister Elaine Sladen. She was predeceased by her brother David Sladen. She cherished moving back to the Okanagan and spending time with them all. She was a caring and devoted mother to her six children and their spouses: Judy and Martin Ray, Kelly and Kim Hilkewich, Wes Hinchey, Dan and Donna Hinchey, Brent Hinchey, and Rob and Tonja Hinchey. She was grandmother to Ashley (Ali), Tyler(Stefani), Mallory (Khalid), Alanna (Taylor), Lauren, Michael, Garrett, Chad (Alanna), Devin (Reilly), Austin (Candice), Blake, Hayli, Kyle, Sheldon (Allison), Alexandra (Bryan),  Jaymi & Lia; and great-grandmother to Aria and Atticus. Being a grandmother and great-grandmother was truly one of Marilyn's greatest joys. She enjoyed filling her house with children and thrived on the happy laughter and crazy antics around the pool. Marilyn's nieces and nephews all had a special place in her heart, and she loved to have them come and visit. She was loved and will be missed by all of them. Marilyn's legacy is the wonderful family she left for all of us to take care of, just the way she showed us. She has touched the lives of so many people. She will be missed, celebrated, and remembered with love, and she always will be a part of us.
The family would like to Thank Dr. Wadhwa, Dr. Leung, Dr. Foster and the staff of ICU A & B of the Kelowna General Hospital, and some very special friends for their excellent care, kindness and assistance to all the family.
In lieu of flowers, please send donations to BC Cancer Agency-Sindi Ahluwalia Hawkins Centre for the Southern Interior 399 Royal Ave. Kelowna BC, V1Y 5L3, www.bccancer.bc.ca; The Yellowknife Community Foundation 5007 Franklin Ave., Yellowknife NT, X1A 3S9, www.ykcf.ca.
If you wish to send a condolence, post photos or share a memory, please scroll down the page to the area called "Condolences".
BC Cancer Agency - Sindi Ahluwalia Hawkins Centre for the Southern Interior or The Yellowknife Community Foundation Link:
www.bccancer.bc.ca
,
www.ykcf.ca