We Remember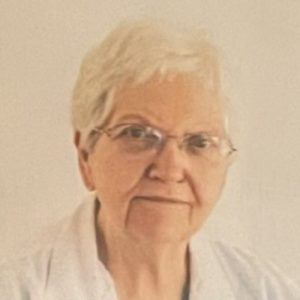 HINE, Theresa
August 1, 1930 — August 27, 2021
Born on the farm, just outside Rosthern, SK on August 1, 1930, Theresa Hine passed away peacefully, at age 91, in Kelowna, BC on August 27, 2021, while surrounded by family.
Theresa was raised in Carlton, SK and she lived in North Battleford, SK, in 1967 she moved to Kelowna, BC. A 5-pin bowler and a bridge player, she was a social person. She gave to her community by being involved with Legion and Navy League. Theresa was a worrier, which really showed how much she cared about her family.
Theresa's legacy is her family: her son Keith Hine (Lora Ford) of Mission, BC, her grandchild Coraleigh (Tyler) Jones, her grandchild Thomas Hine, her grandchild Joseph (Summer – her great-grandchild Colton) Hine, and her grandchild Jacob Hine; her son Brian (Carol) Hine of Maple Ridge, her grandchild Eric (Angela – her great-grandchildren Annabelle and Griffin) Hine, her grandchild Lindsey (Cam – her great-grandchildren Ethan and Kate) Lenfesty, and her grandchild Jennifer (Jivan – her great-grandchild Emmalyn) Sundram; and her daughter Shelley (Russell) Malin of Kelowna, BC, and her grandchildren Craig and Courtney.
The family would like to extend their appreciation to Hilda Knopf, neigbour and friend, for all that she has done. As well, the family has gratitude for the Staff and Nurses at Cottonwoods, for their excellent care of Theresa while she was a resident.
In lieu of flowers, donations may be made to the BC Cancer Agency – Sindi Ahluwalia Hawkins Centre for the Southern Interior.
A Private Family Service will be held. Theresa will be laid to rest and join her beloved husband of 69 years, Art, who passed before her in 2018.
If you wish to send a condolence, post photos, or share a memory, please scroll down the page to the area called "Condolences".
BC Cancer Agency - Sindi Ahluwalia Hawkins Centre for the Southern Interior Link:
www.bccancer.bc.ca