We Remember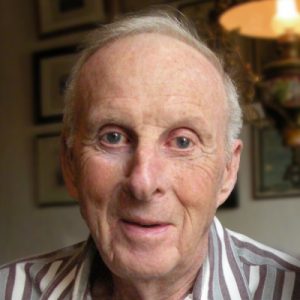 HULBURD, John "Jack" William
April 25, 1929 — May 6, 2020
It is with great sadness that we finally say goodbye to our father who lived a long, and full life. Survived by his beloved wife, Mary, and their 8 children Nancy (Larry), Jeffrey (Sherri), Barry (Cheryl), Cathy (Roddy), Connie (Bob), Gary (Hiromi), Lori (Nelson), and Jennifer (Midford); his grandchildren Allison (Rob), Jessica, Logan, Alisha (Sheldon), Dylan (Tracy), Tess, Matthew, Sylvie, Kyle, and Marina; 8 great-grandchildren; and his many nieces and nephews. Predeceased by baby, Nora.
Dad was a generous individual and everyone in our small town of East Farnham knew him. His dream was to join the paratroopers during WWII, however his young age prevented him from doing so. Before mom entered his world, he was a drummer in a small-town band "The Yamaska Five", but the dancing and jiving wasn't enough to quell the adventurer in him. At the tender age of 20, he set out on a newsworthy journey across the country with his best pal, Bill Hunter, in their 1922 Model T Ford jalopy. Radio and newspapers in Canada and the United States caught up to the pair, and they were interviewed several times during their adventure to the west coast and back.  Henry Ford himself welcomed the duo at the Ford plant in Detroit. Eventually, dad settled down with mom, and in 1953, while they lived in a small flat in Cowansville, QC, dad rode his bicycle each night after work the 6 miles to East Farnham and back, where he spent more than a thousand hours building the family home, which still sits proudly today. Over the years, dad managed a sawmill for the now-defunct Vilas Furniture Company. He and mom eventually left Quebec for Ontario in 1978, and years later travelled west to settle in the Okanagan Valley of BC.
Dad was a devoted caregiver for many years after mom was diagnosed with dementia. But, despite the challenges the disease brought to them both, they still loved camping and jazz festivals, and together they travelled thousands of miles in their little camper, seeking the sound of music, and the quiet of the woods.
Our dad was an honourable man, who had a crazy sense of humour, and no shame in making fun of himself. He would do anything for a laugh. He had a surprising talent for writing stories, and poetry, and his spirit will live on in all of us. We will miss you, daddy.
Dad will be cremated and interred in Riverside Cemetery, East Farnham, Quebec at a future date. The family would like to thank all the staff at Spring Valley Care Home for their ever-lasting patience, and loving care. We respectfully request no flowers, but charitable donations to the War Amps, www.waramps.ca, would be greatly appreciated.
If you wish to send a condolence, post photos or share a memory, please scroll down the page to the area called "Condolences".