We Remember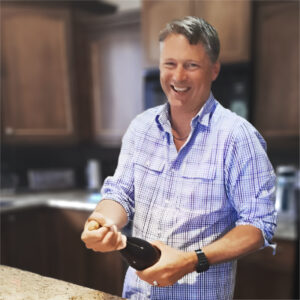 JOHNSON, Dale Andrew
May 22, 1965 — March 4, 2023
It is with heavy hearts that we announce the passing of our beloved Dale Andrew Johnson (May 22, 1965 – March 4, 2023) in Kelowna, BC, after a courageous battle with cancer.
Dale was a devoted father, stepfather, husband, son, brother, cherished uncle, and friend. He is survived by the love of his life, Kelli; daughters Tasha and Shealee; stepdaughters Brooke (Ryan) and Cassidy; parents James and Margaret; sister Lynne (Derek) Stanger; nephews Bryce and Cameron; and many friends and extended family.
Born in Prince Rupert, BC, Dale and his sister grew up primarily in Courtenay, BC. At the tender age of ten, he took up commercial fishing with his dad as the No.1 deckhand. This continued for twelve summers, and it was here that his love for the ocean was born. He went on to study at the University of Victoria, graduating with a Bachelor of Science, followed by the University of British Columbia, graduating with a Bachelor of Pharmaceutical Sciences. He worked as a pharmacist in the lower mainland, followed by a brief stint in Prince George, BC, and in 1996, he settled in Kelowna, BC where he continued to excel in his career until 2022.
Dale was an avid outdoorsman, who hunted, fished, camped and boated, and he shared this love with his daughters, teaching them along the way. He was always learning, whether through books, video tutorials, school, or through friends, his thirst for knowledge was laudable. His ability to do anything he set his mind to was admired by friends, family, and colleagues alike. From digging his own koi pond in the backyard, to raising saltwater fish, to smoking his own meat and making sausage, he was always up for a challenge. Dale was a voracious reader and enjoyed films and documentaries, as well as podcasts on philosophy. A car enthusiast, he often undertook research for various friends and family to help them find the perfect match. If a measure of a great person is in their friends, Dale was loaded. And, he enjoyed sharing his appreciation of a good whiskey, BBQ, and the occasional fine cigar with many.
Dale and Kelli met on a soccer field in 2007 as two of their girls played for the same team. To this day, Shealee and Brooke claim bragging rights for bringing them together. Soon after, they made the leap to purchase a home together and blend their families. Raising four pre-teen daughters under one roof was no small feat, but they managed with an abundance of patience, goodwill, and laughter. The two shared a passion for the water and boating, and the West Kelowna Yacht Club was a large part of their lives. Dale's last boat, Marli, was named in honour of his mother-in-law Mary (deceased) and Kelli. Music also played a major role in their lives, and Dale had a well-known fondness for reggae. They enjoyed travel and had many adventures during their all-too-brief time together. Theirs was a love like no other, and if you were privileged enough to witness it, you felt their bond immediately.
The family would like to thank Dr. Pablo Amigo, Dr. Jade Dittaro, and Dr. Javed Ali for their kindness and compassion while Dale was in their care.
A private Celebration of Life will be held to honour Dale. In lieu of flowers, please consider donating to the Canadian Cancer Society.
If you wish to send a condolence, post photos, or share a memory, please scroll down the page to the area called "Condolences".