We Remember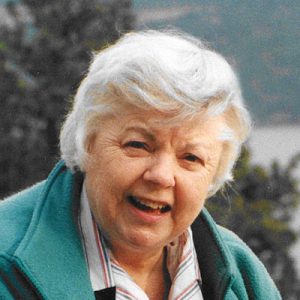 JONES-EVANS, Gerry
—
The family of Gerry Jones-Evans sadly announces the passing of their dear mother on January 23, 2020.  She was born in Essex, England. While a child, she and her two older sisters, Hazel and Sylvia, were evacuated to Wales due to the Blitz.  After the war, Gerry worked at the London Zoo, probably as a volunteer.
In 1949, Gerry and her mom went by ship to Canada to visit Sylvia as she and her husband, Gordon Jennens a WWll veteran, had married, moved to Kelowna, BC, and were expecting their first child, Julie, in April.
When it was time to go back to England, Gerry stayed!  For the next four years, Gerry helped Gordon and his crew build racing shells in the old north end of Kelowna.
Gerry met Peter Jones-Evans, an insurance agent in Vancouver, when their two sisters, Sylvia Jennens and Norah Herbert, set them up on a blind date!  On November 14, 1953, they were married at St. Andrew's Anglican Church in the Mission area of Kelowna.  Afterwards, Gerry moved to Vancouver and married life began with Gerry working at the Vancouver Zoo and then eventually back to Kelowna.
Gerry was a stay-at-home mother while her girls grew up.  While the 3 oldest were in Brownies, Gerry helped as Tawny Owl.  She and Peter joined a bowling team on Friday nights. After Grannie, Peter's mom, moved to Kelowna, Grannie would babysit, help Gerry with canning, and with making tarts on Christmas Eve.  Gerry and Grannie joined a class painting lovely flowers on china plates.  Later, Gerry joined a ceramics class for many years.  She also joined the Ladies Lion's Club for many years, making life-long friends with Iris Tarves and Kay Novak.  The Kelowna Garden Club was one that Gerry had a lot of fun with creating flower arrangements for monthly contests and winning a few awards.  She eventually became the President leading up to a lifelong membership.  Her last position was a Librarian.  Later in life, she wanted to learn how to carve wood, so she joined the wood carving club and created several lovely pieces.  She was involved with Singing For Life which was held at the Heritage Retirement Home.
Gerry was able to go back to England a few times.  For her parents 50th Anniversary the whole family went to England.  They also drove to Wales to visit the couple who had looked after Gerry during WWll, as well as finding the small town where Peter's dad had grown up!  Gerry and Peter drove to Mexico to visit Peter's uncle Jim in Arizona for a couple of days. They also drove to Wenatchee, Washington several times and visited Amsterdam.
Gerry's love of plants had her filling her gardens with many flowers.  She enjoyed her roses at all four of the homes owned throughout her married life.
In 2016, Gerry's health necessitated the sale of her home, and she moved to the Heritage Retirement Home, where she continued with Singing For Life.
She is lovingly remembered by her four daughters Kyna (Dennis) Fischbuch, Linda (Glenn, deceased) Jones-Evans, Carol (Charlie) Gardner, and Patricia Jones-Evans; her granddaughter Patricia; three grandsons Trevor, Mark, and Brodie; nieces Lynn (Barry), Diane (Wim, deceased), Joan (John), Julie (Colin), Susan (Tom), Lorrie (Don), and Kathy (Phil); nephews Gordie, Terry, Doug Jr, and Chris (Sue); nephew-in-law Mario; cousins in England and Spain; cousins-in-law in BC; and many friends including special friend, Iris Tarves.
She was predeceased by her husband, Peter; her parents Gerald and Nellie; her in-laws Laura and I. Martin Dull; son-in-law Glenn Ashton; sisters Hazel (Alex) Sharman and Sylvia (Gordon) Jennens; sister-in-law Norah (Doug) Herbert; brothers-in-law David Jones-Evans and Bill (Rose) Jones-Evans; niece Debbie; nephew Rick; nephew-in-law Wim; and special friends, Kay Novak and Mr. and Mrs. Boyd Ivens.
The family requests that there be no flowers at this time but that a tree, flowering bush, or flowers be planted this spring in honor of our Mom.
If you wish to send a condolence, post photos or share a memory, please scroll down the page to the area called "Condolences".