We Remember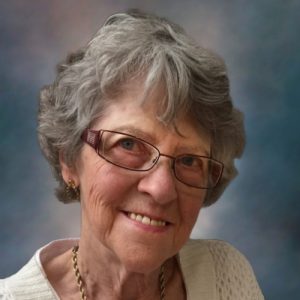 JORDE, Shirley Ada
November 23, 1935 — July 15, 2022
With sparkling eyes and a mischievous grin, Shirley Ada Zachary stepped into this world in Ponoka, Alberta on November 23, 1935.  The second youngest of seven children born to Lee and Ruth Zachary.
She loved (yes, loved) for almost 87 years before her body gave in to the damage incurred from multiple strokes.  Over six years after her first stroke, she eventually lost the ability to tell her family, friends, and everyone else, that she loved them.  We didn't need to hear it, as we knew.  She had told us all thousands of times.  Over her final few months, that was almost all she could say… "I love you".  And again… a smiling "I love you."
We know, Mom, we know.
She left her tired body behind on the afternoon of Friday, July 15, 2022.
Shirley taught us many things, but most importantly, that you don't need to agree with someone or even understand them to love them and accept them – that love comes first, and last, and with that, the middle will take care of itself.
Shirley is celebrated by her daughters Vicki Tauber (Ernie) and Charlie Jorde; her sons Greg (Junko) and Darren (Nini); six grandchildren, Allyssa (Steve), Dallas (Krista), Riley, Kanna, Maya, and Summer; four great-grandchildren Sienna, Easton, Atticus, and Cedar; her brother Richard Zachary, and many nieces, nephews and friends.
She loved to bake. She could often be found, lightly dusted with flour, working in her kitchen, producing stacks of cookies, cinnamon buns, or fresh bread. Or in the fall, feverishly canning fruit or making jams.
She loved music. She played piano and organ in the little Pentecostal church in Clinton, BC and later for many, many years in the Bethel Tabernacle in Kamloops, BC.  A self-taught pianist, Shirley could play any hymn, in any key. She sang in a trio and in the choir too.  And after teaching Sunday School, she would often ferry her children around Kamloops to sing hymns for residents of various nursing homes.
Shirley loved bargain hunting.  Whether it was a garage sale, a farmer's market, or VV Boutique (her name for Value Village), you could be sure that she was going to find the special item or items, or at least spend half the day looking.  She loved greeting cards and would read through rack after rack of greeting cards to find the one that best conveyed her tone and message.  And then write something that was much more meaningful, much more special.  And it always ended with "I love you".  Shirley loved her family, and she would happily spend way too much money to send you a box of her cookies.  And when she thought you were in trouble, she could walk fearlessly into the lion's den to help you.  The lions would call her Mrs. Jorde.
She loved to travel, whether it was a few days with her friend Eileen to Beecher Bay, spending time with Charlie in Victoria, or one of her many trips to Asia.
She loved costume jewellery; humble, fun, carefree, simply meant to add colour and joy.
She loved gardening.  And, whether it was at the apartments in Kamloops, BC or around the pool in the Dallas neighbourhood; in Abbotsford, BC; or around her place in Kelowna, BC, she could often be found pulling weeds or planting flowers, making the world a more friendly, more colourful place.
She loved her job at the University College of Fraser Valley, where she became a surrogate grandmother to thousands of students from around the world.
She loved babysitting.
Shirley even loved cold toast, warm coffee, sour juice, rainy days, flight delays, sore feet, and over-cooked meat if it meant she could be with someone she loved.
Shirley, she loved.
Shirley's hardest moments were when she lost someone she loved.  The deaths of her brother Ken, her mom Ruth, her dad Lee, her sister Elsie, her good friend Eileen, or her faithful canine companion of 17 years, Benson, were not easy.  Neither was the ending of her marriage.  In these moments, you knew she was hurting, but still, she smiled, and even laughed, and loved.  She just hugged a little tighter, and she held you a little longer.
Shirley, she loved.
She had strong faith, and the faith she had was radiant.  The love of God was beaming out of her.
The Law of Conservation says that energy can neither be created nor can it be destroyed.  Chemical energy can become mechanical energy.  Mechanical energy can become potential energy.  Potential energy can become sound energy or heat energy.  But there is another kind of energy that science cannot quantify or measure, and that is the energy of love.  Shirley spent her time creating this energy and giving it free of charge to the world and beyond into the heavens.  And it, too, can never be destroyed.  It makes no sound and has no mass, but we can feel it anytime we want.  It is all around us.  And where it is, Shirley is too.
Shirley, she loved.
The family would like to thank the staff at Glenmore Lodge, Magpie Neighbourhood, for their kind care and love for Mom.
An open house will be held at 640 Hardie Court, Kelowna, BC, on Sunday, August 14, 2022, from 1:00 pm to 4:00 pm to celebrate Shirley's life.
In lieu of flowers, donations may be made to the Our Place Society, www.ourplacesociety.com
If you wish to send a condolence, post photos, or share a memory, please scroll down the page to the area called "Condolences".
Service
Sunday, August 14, 2022, from 1:00 pm to 4:00 pm
Service Information
Service Details
The service for JORDE, Shirley Ada is scheduled for Sunday, August 14, 2022, from 1:00 pm to 4:00 pm. Below you will find the map for the service location and the contact information should you have any questions.