We Remember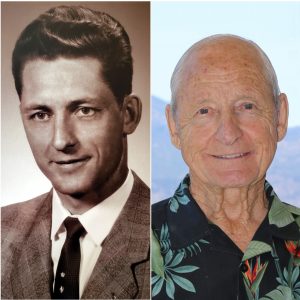 KURTENBACH, Raymond Joseph
July 23, 1931 — April 7, 2020
Raymond Kurtenbach passed away peacefully at home in the early hours of April 7, 2020 at the age of 88. He has joined his one true love, Audrey, and is singing in heaven with all those who have gone before him. This includes his parents Charles and Rose; brothers Francis, Leonard, and Clarence; and sisters Lizzie, Anne, Leona and Armella; along with granddaughter Nicole; and so many other family members and dear friends.
Ray was born on July 23, 1931 on the family farm in the Leofnard area north of Cudworth, Saskatchewan. His parents were homesteaders, and the children all worked very hard on the land and with the livestock to run their home. We heard many stories of the walks to the schoolhouse (uphill both ways) and playing with cousins on the farm, as well as an infamous story about a calf that he thought he killed but had only knocked out. Thankfully it came to, with the help of a bucket of water! Many fond memories were made during those early years and he loved to tell stories about living on the farm. The family moved to Vonda for a year, and then in 1947, to the town of Prince Albert. He, along with brothers Clarence and Orland worked at a Texaco gas station and garage. Ray then travelled with cousins to Vancouver, and then by boat to Kitimat to work on mountain tunnels to join water supply to the town and to the Alcan aluminum plant. Then, in his early 20s, he bought a gravel truck and worked with his sister Armella's husband Gerry. Ray then moved to Grande Prairie. That is when, at age 25, he married his true love Audrey. They met at a party and Audrey noticed a handsome young man with grey pants and a red shirt sitting on a case of beer. She went home and announced to her mother that she met the man she was going to marry. It took him two weeks and a little courage to find out where she lived, and to go and knock on the door to ask her officially on a date. It was love at first sight, and I believe as they say…the rest is history! In their early married life, Ray worked for Good Year Tires. This job required him to travel and be away from home during the week. After Colleen was born, he changed to a career that would allow him to be home every night. Selling real estate was a great fit for Ray and he excelled. In 1967 they welcomed another daughter, Jacqueline and their family was complete. Over the years they owned some rental homes, and then in 1977, an opportunity arose to purchase three women's clothing stores. The whole family worked at Karen's Fashions and as it turned out, Ray had quite the eye for fashion! Retirement in 1983, brought a move to Kelowna and to a slower pace of life, but Ray continued to stay busy over the years, dabbling in real estate, acting as contractor in the building of a few homes, and selling Amway and screen doors. In his later years, he greatly enjoyed volunteering at the RCMP substation in Kelowna, at the Kelowna food bank, curling, and going to dances frequently with his sweetheart (even though he had two left feet – he did anything to make his honey happy)! He also enjoyed attending the Kelowna Rockets hockey games and singing with the choir at the Seniors Center in West Kelowna. Ray also spent a large portion of his time at The Village at Smith Creek in West Kelowna during the seven years that Audrey lived there. He made the rounds, visiting and often handing out rose buds to the residents, while singing "You are my Sunshine" and pushing Audrey's wheelchair. His main goal was to come home knowing that he had brought some joy to someone and had made someone smile. Ray often said how if he had been born in a different time, he likely would have become a doctor. We believe that fully, as he had true caring and compassion for everyone he met. He was quite active and was even playing ping-pong last summer with his grandchildren. Even in his final days, he was very independent and remained active. Ray was always engaging and reaching out – no one was a stranger!
Ray was an amazing man, son, brother, husband, dad, uncle, Papa and friend! He loved deeply and often said how lucky he was to have such a great family, loving daughters, grandchildren, and sons-in-law who he said he could not have picked any better. We were the lucky ones! To have such a role model and witness that kind of love expressed, we were completely blessed! His grandchildren have so many memories of their Papa: teaching them to ride a bike, giving them airplane rides supporting them on his feet and hands (with him lying on his back), singing to them, horsey rides on his crossed legs, talks about the good old days, budgeting, relationships, and on it goes… too many to list. He was a gentle soul who lived to bring joy, love and happiness to others, which in turn filled him up. He truly lived a wholehearted life filled with courage, compassion, kindness, and connection. He was an eternal optimist who loved life and always had a smile. Ray was a great communicator and picked up the phone often to reach out to friends and family. He had a strong influence not only on his children and grandchildren but on many nieces and nephews over the years. He was a strong anchor for so many! Lots of advice and encouragement was given throughout family ups and downs, with the only goal of wanting what was best for that person. In the past few years, his advice mostly centered around love and commitment.
Ray leaves behind daughters Colleen (Reg) and Jackie (Greg); grandchildren Alexander (Tifany), Angelique (Sarah), Samantha, Justin and Rebecca; brother Orland (Laurel); and countless other family members and friends who loved him. We take comfort in knowing that love is eternal, and this is not goodbye – it is until we meet again. The best way we can honour his legacy is to love unconditionally and live our best lives!
In lieu of flowers, please make donations to the Kelowna Food Bank in Raymond's memory, cofoodbank.com, or contact the family as they are arranging the building of a handmade bench in memory of both Audrey and Ray.
If you wish to send a condolence, post photos or share a memory, please scroll down the page to the area called "Condolences".