We Remember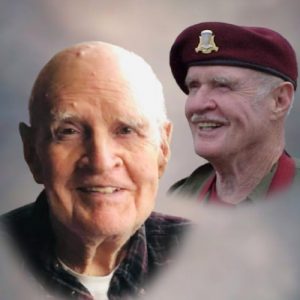 LANG, James
October 14, 1931 — December 24, 2021
Our beloved Dad, Papa, and Grandpa Jim passed away peacefully on December 24, 2021, at the tender age of 90. He will be deeply missed by his children Bob (Martha), Corrie (Lisa), and Cindy (Colin); seven grandchildren Alistair, Malcom, Allison, Kaleigh, Thomas, Ashlyn, and Alexa; and two great-grandchildren Ryder and Sienna. Jim was predeceased by his wife of 61 years Lillian, his brother Norman, and Mother Velma.
Jim spent over 30 years working in various capacities with Calona Wines. He made a few lifetime friends, and Jim and Lillian always enjoyed dancing up a storm at the company Christmas parties. Jim was a Judo Sensei for many years at Kelowna's Judo Club. He was a world-renowned gun and medal collector, attending Calgary's Antique Medal & Gun Show, with Lillian, for many years with award-winning displays. Along with many of his own interests and hobbies, Jim never missed a family gathering, baseball, soccer, track and field, or football game his kids growing up were playing in. His family was lovingly by his side the last days of his adventurous life.
In Jim's later years after he hung up his parachute for the last time at 78 years old and 720 jumps, he loved nothing more than going for a walk every day with Lillian, lunch at Tim Horton's at Orchard Park, and spending time with his children and grandchildren. He was a paratrooper in the American Army and a member of 187th ARCT (Airborne Regiment Combat Team). He was a proud Canadian, as well as a Korean War Veteran, going to Kelowna's local schools each Remembrance Day sharing his experiences and honoring the men and women in Military service.
Thank you to Hawthorn Park, for caring for both Jim and Lillian during their time there. A special thank you to the most loving care team at Orchard Manor during Jim's residency and his end-of-life care.
In lieu of flowers, donations can be made to The Royal Canadian Legion Branch 26 (Kelowna). A celebration of life will be held at a later time, details to be announced.
If you wish to send a condolence, post photos, or share a memory, please scroll down the page to the area called "Condolences".