We Remember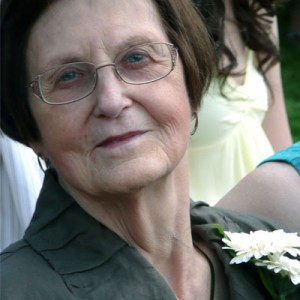 Langvand, Eunice
July 29, 1928 — December 19, 2011
It is with heartfelt sadness that we announce the peaceful passing of Eunice on December 19, 2011, at the age of 83. She is survived by her loving children Teresa (Jerry Hlady) of Kelowna, Neil (Debbie) of Red Deer, Randi Walker (Brian Hawrysh) of White Rock, Vicki (Gert Willems) of Comox and Andrew (Joan Fitzpatrick) of Edmonton; by her grandchildren Kristin Battey, Jason Merkens, Jolene Merkens, Derek Langvand, Trevor Langvand, Karis Langvand, Sean Langvand and Daniel Langvand; by her great-grandchildren Nicholas, Jaden and Caitlyn; by her brother John Stone (Mavis) of James River Bridge, AB; and by numerous nieces and nephews. Eunice was predeceased by her husband of 53 years, Norman (2004); by her parents, Glen and Grace Stone of Sundre, AB and by her siblings Cora, Lewis, Clint, Frank and Nellie.
Eunice was well known for her cheerful demeanor and her love for being involved in many activities. Combining those traits with a strong head for numbers, she was a long-time member and served on the executive boards of Sons of Norway in Red Deer and Kelowna, Branch 17 Senior's Centre on Richter Street in Kelowna, BC and the Okanagan Antique Power Club. Eunice loved to dance and enjoyed all kinds of music. She played piano, violin and accordion. Her family loved to joke with her about her accordion playing – she got lots of requests…but she played anyway! Eunice also loved games of all kinds and was expert at Scrabble, Bingo and cribbage.
Eunice and Norman met in Innisfail, AB and married there in 1950. They raised their children in Calgary, where Eunice worked as an auto-dealership accountant and office manager. In 1973 the family moved to Caroline, AB in a lumber industry venture, and Eunice continued her career, now commuting to Innisfail. They moved to Red Deer in 1977, where Norman founded the repair business Suburban Appliance, still owned and operated by Neil, and Eunice worked for Toyota, Volkswagen and finally, Weidner Motors in Lacombe. Eunice and Norman retired to Naniamo, BC, later moving to Kelowna to be closer to family.
Eunice was an extremely proud mother, grandmother and great-grandmother (aka Gee-Gee). Recently, she moved into Okanagan Chateau, where she enjoyed a cruise-ship-like lifestyle. The family would like to thank the wonderful staff and residents of the Chateau for making her short stay there truly enjoyable. Thanks also to Dr. Dean Griswold and the staff of the stroke unit at Kelowna General Hospital for their kind and loving care. Finally, thanks to the many staff at Hospice House – there are no words to describe the dedication, kindness, and loving care these angels provided our dear mother in her final weeks.
We invite you to join our Celebration of Life at 1:00 pm on Saturday, January 7th, 2012 at the Springfield Funeral Home, 2020 Springfield Road, Kelowna. Although Eunice loved flowers, a donation to the Central Okanagan Hospice Association – Hospice House, 2035 Ethel Street, Kelowna, BC, V1Y 2Z6. on her behalf would be gratefully received.
Service
1:00 pm on Saturday, January 7th, 2012
Location
Springfield Funeral Home
Central Okanagan Hospice Association – Hospice House, 2035 Ethel Street, Kelowna, BC, V1Y 2Z6
Service Information
Service Details
The service for Langvand, Eunice is scheduled for 1:00 pm on Saturday, January 7th, 2012 . Below you will find the map for the service location and the contact information should you have any questions.