We Remember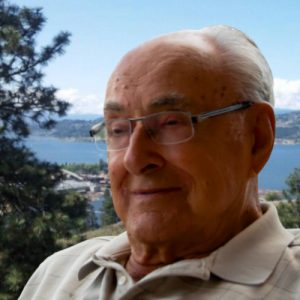 LOCHANSKY, Walter Albert
—
It is with great sadness that the family of Walter Albert Lochansky announce his passing on November 10, 2022, at the age of 91 years.
Left to cherish his memory are his wife, Eloise, and two sons, Brian (Bobbi) of Delta, BC, and Jim (Lorie) of Kelowna, BC.  He is survived by five grandchildren: Spencer (Taylor), Fraser (Brandon), Kathryn (Charles), Chloe (Erik), and Abby.  Walter was predeceased by his parents, Maxim and Martha Lochansky, and elder brother Alexander Lochansky.
In lieu of flowers, the family is suggesting a donation to The Alzheimer Society of BC.
A Funeral Service will be held on SATURDAY, NOVEMBER 19, 2022, at 10:00 am, at SPRINGFIELD FUNERAL HOME (2020 Springfield Road, Kelowna, BC), with reception to follow.  A Private viewing will take place from 9:00 am – 10:00 am beforehand.  
If you wish to send a condolence, post photos, or share a memory, please scroll down the page to the area called "Condolences".
Service
SATURDAY, NOVEMBER 19, 2022, at 10:00 am
Location
SPRINGFIELD FUNERAL HOME
Service Information
Service Details
The service for LOCHANSKY, Walter Albert is scheduled for SATURDAY, NOVEMBER 19, 2022, at 10:00 am. Below you will find the map for the service location and the contact information should you have any questions.