We Remember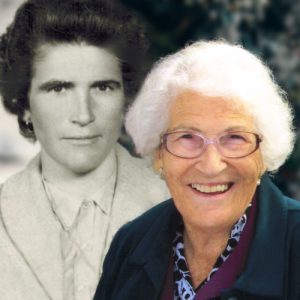 MENDES, Ermelinda "Linda"
May 8, 1931 — September 23, 2021
Beloved mother, grandmother, and great-grandmother, Ermelinda Mendes passed away on September 23, 2021, having graced our Earth for 90 years.
"Linda" was born May 8, 1931, in a small town in Portugal (Pinhereino d'Azere). There she met and married Arnaldo Mendes. Arnaldo left Portugal in 1957 and arrived in Canada to make a new life for his family. Once he was established, he sent for Linda and their sons to join him in 1961. The family chose to live in the beautiful Okanagan, starting in Osoyoos, BC. Linda worked hard in local orchards and nurseries. She learned to speak English and quickly made friends. Linda was never afraid of hard work and was known for having a green thumb. She was famous for her huge and lush vegetable gardens, which she happily shared with others. She welcomed friends and family into her home and prepared amazing Portuguese meals. In her later years, Linda took up painting, and other arts and crafts, graciously gifting her family and friends with her projects.
Linda loved all people and spread warmth and kindness everywhere she went. Just as she grew beautiful gardens, Linda had a way of bringing people together, encouraging their love and compassion to flourish by her own example. She will be remembered most by her heartfelt connections to everyone she met.
Linda was predeceased by her husband, Arnaldo (d. 2006) and her sister Ceu. She is survived by her two sons Joe (Sandra) and Tony (Marcia); her six grandchildren Matthew (Kim), Daniel (Symphony), Ashley, Dyanna, Landon (Chelsea), and Austin (Michelle); as well as four great-grandchildren Whitton, Callaghan, Maxton and Roman. Known as "Aunty Melinda" to her family in Portugal, she will be missed by Rosa (Rui Sr.), John, Ceu, (Pedro), Maria Clara, Rui Jr; her niece Adilia (Rubim); and her cousin Odette (Jorge) and their 3 sons Paulo, Rafael, and Rui.
Family and friends were blessed to celebrate Linda's 90th birthday and the 60th anniversary of arriving in Canada, just a few months ago.
The beauty of a life well lived never dies. It continues to embrace and inspire us.
Linda will live on in our hearts forever.
The family would like to thank Dr. Goutier and the amazing team at Cottonwoods for their support and care, particularly in Linda's final days. You are truly heroes!
Private service by request. In lieu of flowers, donations may be made to the Canadian Mental Health Association, www.cmha.ca, the Kidney Foundation, kidney.ca, or a charity of your choice.
"The kindest people are not born that way, they are made. They are the souls that have experienced much at the hands of life. They are the ones who have dug themselves out of the dark, who have fought to turn every loss into a lesson. The kindest people do not just exist, they choose to soften where circumstance has tried to harden them. They choose to believe in goodness because they have seen firsthand why compassion is so necessary. They have seen firsthand why tenderness is so important in this world."
– Blanca Sparacino
If you wish to send a condolence, post photos, or share a memory, please scroll down the page to the area called "Condolences".
 Canadian Mental Health Association, the Kidney Foundation, or a charity of your choice. Link:
www.cmha.ca
,
kidney.ca