We Remember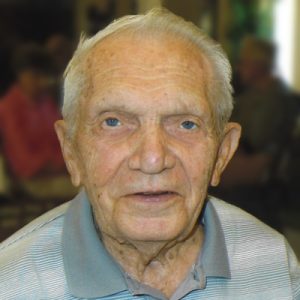 NEUMANN, Anton "Tony" Joseph
—
Anton "Tony" Joseph Neumann passed away peacefully on February 8, 2020 in Kelowna, BC at the remarkable age of 98 years. He is survived by his daughter Marlies Klammer; his son Kurt (Kate) Neumann; and his siblings Hilde Wollny and Oscar (Bärbel) Neumann. Sending loving goodbyes to their Opa are his four grandchildren Dianne Malone, Darren Klammer, Karen (Cody) Rivest, and Andrea (Cody) Klassen; and his six great-grandchildren Jayden and Jackson Klammer, Kai and Keeley Rivest, and Isabelle and Hannah Klassen. He will also be missed by his nieces, nephews, and extended family. Tony was predeceased by his loving wife, Erna Neumann, and his sister Maria Stadelman.
Born in Derelui, Romania, Tony spent much of his youth and young adulthood in Germany before immigrating to Canada in 1957.  Initially, he and his family established themselves in Regina, Saskatchewan where he worked in electronics before retiring to the Okanagan in 1974. He enjoyed dancing, music, dinner parties, and playing cards with family and friends. Wherever he lived, you would find him enjoying walks around the neighbourhood in the sunshine and fresh air.
The family would like to thank the staff at Kelowna General Hospital for their care and compassion during Tony's stay. A private Celebration of Life will be held at a later date.
If you wish to send a condolence, post photos or share a memory, please scroll down the page to the area called "Condolences."