We Remember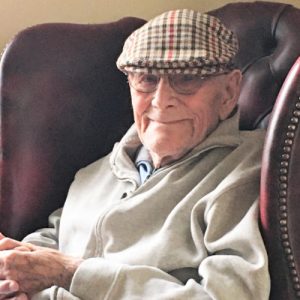 NEWMAN, Thomas Henry
August 14, 1920 — November 14, 2021
Thomas Henry Newman was born in Cambridge, England, and died in Kelowna, British Columbia, on November 14, 2021, at the age of 101.
Tom served in the Royal Army Medical Corps during WWII from1939 to 1946, and in 1941 he married Anna Elizabeth "Betté" Higgins. After the war Tom began working at Guys Hospital, London, England, in the Haematology Department and over the next 34 years, he held various administrative positions both at Guy's and in the local health region. In 1980, at the age of 60, he took early retirement, and he and Betté immigrated to British Columbia to be closer to their three grandsons.
Predeceased by Betté in 2002, Tom is survived by his daughters, Lorri Newman, of Devon, England, and Moyra Baxter of Peachland, British Columbia. Tom also leaves behind his grandsons and their families: James Baxter of Castlegar, BC, Jason Baxter of Abbotsford, BC, and Jeremy Baxter of Trail, BC; they cherish all the wonderful times they had with their grandad.
Since coming to Canada, Tom learned to ski, on snow and water, enjoyed fishing and camping, but his great love was golf.  Many happy hours were spent at the Kelowna Golf and Country Club, both playing, and shooting the breeze with his friends while drinking his warm beer.  He will be really missed by his family, who wish to thank all the staff at Mountainview Village (Assisted Living), and Drs. Carver and Cheyne, for all their care over the years.
No service by request. In lieu of flowers, please consider a donation to the KGH Foundation.
If you wish to send a condolence, post photos, or share a memory, please scroll down the page to the area called "Condolences".